Scientific laboratories need high-precision microscope slides and coverslips for a wide range of uses, ranging from simple optical microscopy to more advanced cytology and histology applications.
In all cases, the overriding requirement is for a precision glass item designed to help deliver the clearest possible image.
The same standards apply to coverslips, and here at UQG Optics, we offer a range of slides and coverslips from stock, as well as manufacturing custom made solutions to a specific design.
What are microscope slides?
A microscope slide is a thin piece of glass, usually measuring 75 by 26 mm (3 by 1 inches) – although they can be supplied as either squares or rectangles – and available in a range of thicknesses and materials.
The purpose of a microscope slide is to act as the support for a sample or specimen which needs to be examined under a microscope. The most important aspects of any microscope slide are the clarity and quality of the glass and the nature of the light which can pass through it.
Materials used depend on the intended application, and include Quartz, UV Fused Silica, Sapphire, Caf2 and Borosilicate. Each material offers different properties, such as the ability to work at high temperatures or degree of enhanced UV transparency.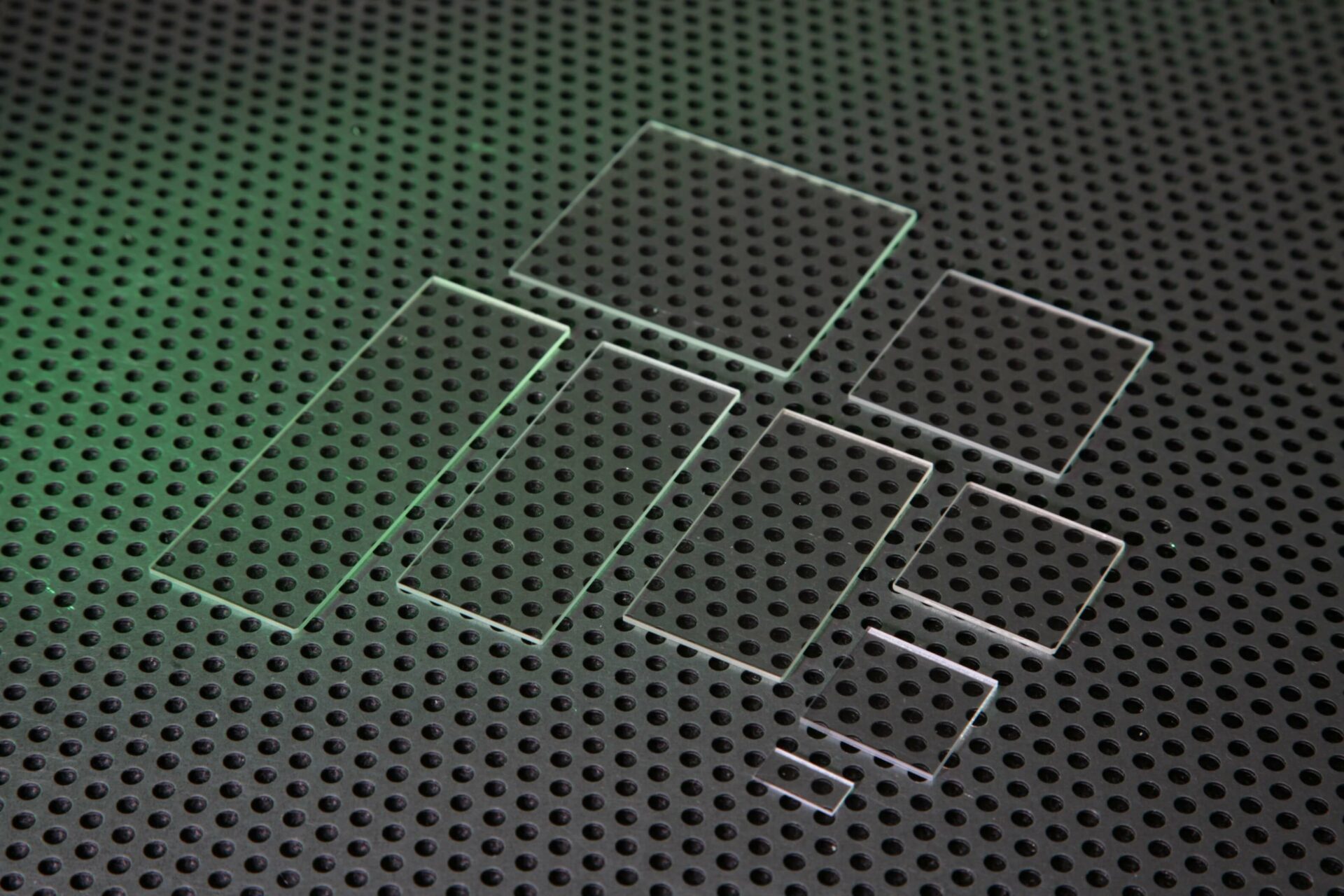 Applications and uses for microscope slides
Microscope slides can be purchased from stock or manufactured to meet specific demands for use in the following circumstances:
Optical and display applications
What materials are microscope slides available in?
The ideal choice for research applications and spectroscopy working with wavelengths from the UV 180nm to IR 7 microns. Calcium fluoride also offers a low refractive index which means that the slides don't require an anti-reflective coating.
The best material for laboratory research and microscopy in which UV transparency is paramount. Fused quartz is also ideal for use at higher temperatures, being able to operate at up to 1100°C.
The main qualities offered by Sapphire microscope slides is the fact that they offer an extremely high melting temperature of 2030°C and hardness of 9 mohs. This, combined with the fact that the material boasts a chemical resistance to acid and alkali, makes it the ideal choice for analytical, biomedical and R&D research.
Fused Silica microscope slides are ideal for UV microscopy and UV confocal microscopy. The slides offer strength and thermal properties similar to Quartz microscope slides, coupled with higher purity thanks to the fact that they are fluorescent free.
What are coverslips?
Coverslips are flat pieces of glass less than a millimeter thick and generally around 20 mm wide. A coverslip is placed over a specimen on a microscope slide, to hold the specimen in place and protect it from contamination from the environment.
At the same time, the coverslip protects the lens of the microscope, stopping it from coming into contact with the specimen.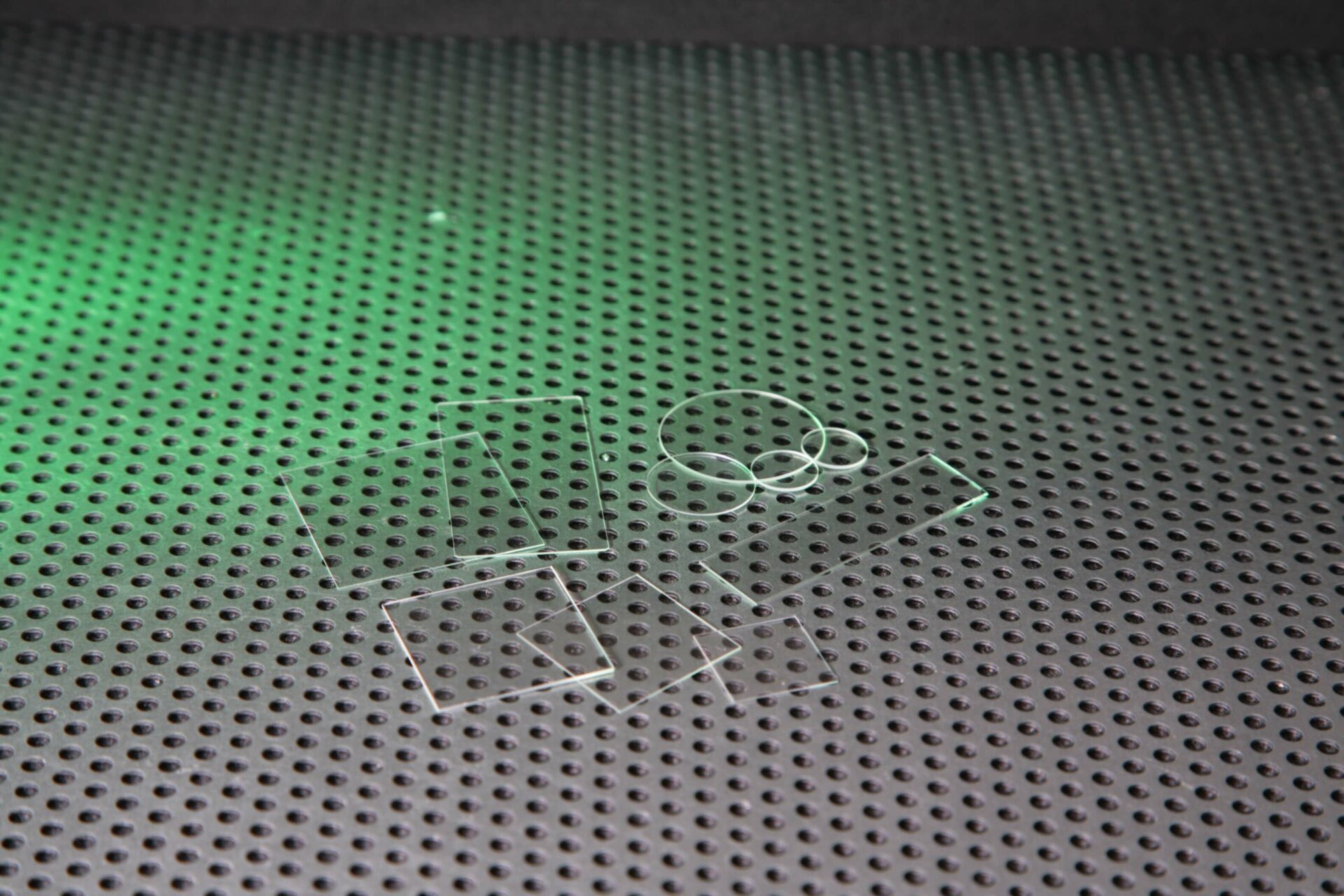 What materials are coverslips available in?
'Z' Cut Quartz – Z Quartz coverslips can be supplied to precision thicknesses of as little as 0.05mm, with a high optical polish on both sides. AR coatings are also available.
Fused Quartz – Coverslips made from Fused Quartz provide excellent UV and visible transparency, and can operate successfully at temperatures of up to 1200°C (2192°F). It is an excellent choice for experiments which involve UV microscopy and UV Confocal microscopy.
ITO Coated Glass – these are standard laboratory glass coverslips which have been given an indium tin oxide coating. They are available in four standard thicknesses and the ITO sheet resistance offered ranges from 8-12 ohms/sq to 70-100 ohms/sq.
ITO Fused Quartz – These are standard optically polished Fused Quartz coverslips which have an ITO layer on one side. They offer higher transmission than standard glass ITO coverslips, and can operate at temperatures of up to 1000°C.
Sapphire – Sapphire coverslips can be manufactured to a thickness as low as 0.05mm, while still offering strength and resistance to common chemicals and acids. Excellent thermal conduction and ability to withstand high temperatures mean that Sapphire coverslips are ideal for laboratory use.
Thin Glass – the thin glass slides and cover glasses (another term for coverslips) stocked by UQG are made from chemically resistant Borosilicate glass D263M up to 0.20mm thick and Schott D263® T eco glass above thicknesses of 0.20mm. They have a wide range of applications and can be used for fluorescence microscopy as well as optical and display applications.
UV Fused Silica – the enhanced purity of UV Fused Silica offers high levels of UV and VUV transparency, in a range from 160nm to over 2 microns. This makes it a suitable material for UV confocal and UV microscopy. At the same time, these coverslips will be fluorescence free and will work at temperatures of over 1000°C.
Contact UQG Optics
UQG Optics specialises in precision microscope slides and coverslips. We also supply custom float glass microscope slides for laboratory use.
To discuss a particular requirement or for general advice about our custom or stock optical products, please contact us on +44 (0)1223 420329 or via email at info@uqgoptics.com.