Fused Quartz optical grade is a good choice for general optical windows, substrates and optical components.
One question always asked is what's the difference between fused quartz and fused silica? They are made in different ways but the main reason is the purity of the material and transmission values. If you need good transmission below 260nm then fused silica would be the choice. For transmission above 260nm fused quartz would be more suitable. Another factor to consider is fused quartz fluoresces and fused silica is virtually fluorescent free.
The material can withstand high temperatures of up to 1300 degrees C with a high softening point and resistance to thermal shock.
Fused Quartz is widely used in science, industry and instrumentation for commercial and precision applications. Products made in fused quartz include optical windows, substrates, plates, lenses, prisms, light guides, pressure windows and protection windows.
View all our Fused Quartz plates and windows.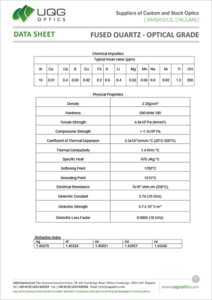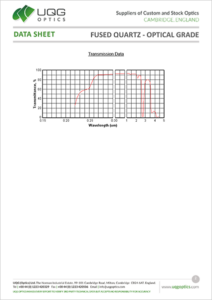 UQG OPTICS MAKES EVERY EFFORT TO VERIFY 3RD PARTY TECHNICAL DATA BUT ACCEPTS NO RESPONSIBILITY FOR ACCURACY.
PDF Download