ITO coated quartz are ITO coated one side only with the second side uncoated.
The ITO coating has a resistivity of 8-12 Ohms/square with good transmission over the visible range. In many cases busbars are added to the coated surface or the ITO can be etched to a pattern. The data includes transmission and data of the quartz as this is useful for high tempreture applications and the purities of quartz.
They are used in displays, microelectronic research, smart windows and act as barrier in harsh conditions.
View all our ITO Coated Fused Quartz Front Surface Mirror products.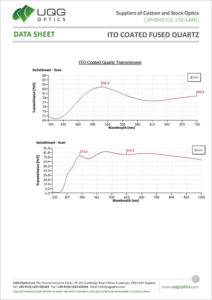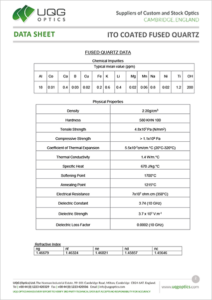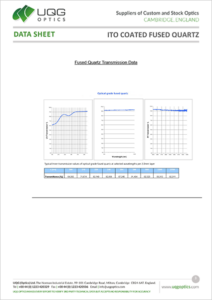 UQG OPTICS MAKES EVERY EFFORT TO VERIFY 3RD PARTY TECHNICAL DATA BUT ACCEPTS NO RESPONSIBILITY FOR ACCURACY.
PDF Download