Sapphire Microscope Slides
Our Sapphire Microscope slides are supplied in standard laboratory sizes. Sapphire has an extremely high melting temperature of 2030°C and hardness of 9 mohs. This makes these microscope slides very robust and they are also useful for their optical properties and chemical resistance to acid and alkali, although not to hydrofluoric acid.
Sapphire microscope slides are produced from 0.50mm to 1mm thick – if you need thinner we have a stock range of Sapphire coverslips, or we can produce them as thin as 0.05mm. Used for laboratories in universities, analytical research, biomedical and R&D research.
UQG Optics stock Sapphire Microscope slides in various dimensions or we produce custom sizes to suit your needs.
Please contact our sales team.

View RoHS Statement
| | |
| --- | --- |
| Dimensions: | Squares/Rectangles 1mm x 1mm to 100mm x 100mm |
| Thickness Range: | 0.50mm to 2mm thick (subject to dimension) |
| Material Options: | Cut to 'C' axis |
Purchase OEM production quantities?
Ask UQG for a quote we are a major single source supply chain global supplier.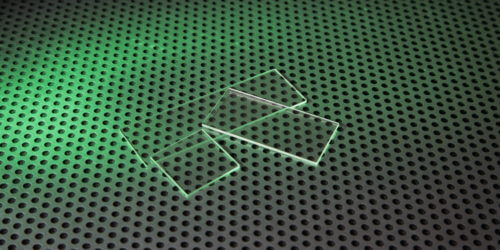 Material:
Sapphire-Optical-Random Orientation
Dimension Tolerance:
±0.10mm
Thickness Tolerance:
+/-0.10mm
Surface Quality:
80/50 to 20/10 scratch/dig
Surface Flatness:
≤ 10 Fringes (@633nm)
Parallelism:
≤ 3 Arc mins
Transmission Range:
300nm to 5 Microns
Parts sold as single items
Please contact us for discount pricing for stock parts over 10+ and volume/OEM quantities
Part Number
SMS-2521
PDF Data sheet
Thickness (mm) 1
Dimensions (mm) 25 x 25
UNIT PRICE (1-10)
£39.00 Inc. VAT
Part Number
SMS-5025
PDF Data sheet
Thickness (mm) 1
Dimensions (mm) 50 x 25
UNIT PRICE (1-10)
£65.00 Inc. VAT
Part Number
SMS-7521
PDF Data sheet
Thickness (mm) 1
Dimensions (mm) 75 x 25
UNIT PRICE (1-10)
£82.00 Inc. VAT