Fused Quartz Microscope Slides
Our Quartz Microscope Slides are made of a high purity Fused Quartz. Used for microscopy and laboratory research when UV transparency in needed. The Fused Quartz is suited for higher temperature applications up to 1100°C and improved optical performance with low absorption. Fused Quartz microscope slides are stocked in a range of standard laboratory sizes, they are also custom made to other dimensions and thicknesses.
For higher purity and increased UV in microscopy, UV Fused Silica is used which is fluorescent free and transmits down to 180nm.
Please contact our sales team.

View RoHS Statement
| | |
| --- | --- |
| Dimensions: | 1mm x 1mm to 150mm x 150mm |
| Thickness Range: | 0.5mm to 3mm |
| Surface Quality: | 80/50 to 20/10 scratch/dig |
| Surface Roughness: | < 1nm |
Purchase OEM production quantities?
Ask UQG for a quote we are a major single source supply chain global supplier.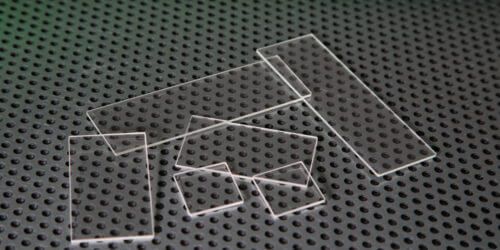 Thickness Specification:
±0.10 mm thick
Surface Quality:
40/20 Scratch/Dig
Surface Flatness:
≤ 10 Fringes (@633nm)
Parallelism:
≤ 5 Arc mins
Please contact us for discount pricing for stock parts over 10+ and volume/OEM quantities
Part Number
FQM-2521
PDF Data sheet
Dimensions (mm) 25 x 25
Thickness (mm) 1
Focal Length (mm) 0
UNIT PRICE (1-10)
£10.00 Inc. VAT
Part Number
FQM-5025
PDF Data sheet
Dimensions (mm) 50 x 25
Thickness (mm) 1
Focal Length (mm) 0
UNIT PRICE (1-10)
£13.00 Inc. VAT
Part Number
FQM-7521
PDF Data sheet
Dimensions (mm) 75 x 25
Thickness (mm) 1
Focal Length (mm) 0
UNIT PRICE (1-10)
£14.00 Inc. VAT