Indium Tin Oxide (ITO) is an optical material that is widely used for its unique electrical and optical properties.
It is a transparent conductive oxide (TCO) that consists of indium oxide (In2O3) and tin oxide (SnO2) in a specific ratio. ITO is known for its high electrical conductivity and remarkable transparency in the visible spectrum. These properties make it suitable for applications where both electrical conductivity and optical transparency are essential.
ITO is commonly used as a coating on various substrates to create transparent electrodes. It finds extensive use in electronic devices such as touchscreens, LCD displays, solar cells, and smart windows. The transparent nature of ITO allows for efficient transmission of light, while its conductive properties enable the flow of electric current.
In addition to its electrical and optical properties, ITO also exhibits good chemical stability and durability. It is resistant to environmental factors such as moisture and oxidation, which ensures its long-term performance and reliability. Overall, Indium Tin Oxide (ITO) is a crucial optical material that combines excellent electrical conductivity with high optical transparency, making it a valuable component in numerous modern technologies.
View all our ITO Fused Quartz Windows and Plates products and our ITO Fused Quartz Coverslips products.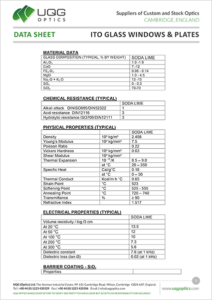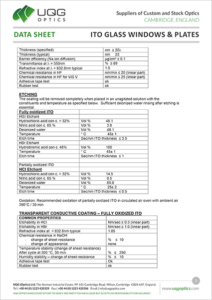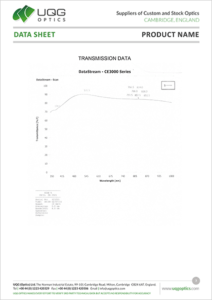 UQG OPTICS MAKES EVERY EFFORT TO VERIFY 3RD PARTY TECHNICAL DATA BUT ACCEPTS NO RESPONSIBILITY FOR ACCURACY.
PDF Download