Calcium Fluoride (CaF2) Microscope Slides
CaF2 microscope slides are made in a range of standard laboratory sizes.
The UV/IR Calcium Fluoride material is ideal for spectroscopy and research applications for wavelength from the UV 180nm to IR 7 microns. Calcium fluoride's low refractive index allows it to be used without an anti-reflective coating, with Low absorption and high damage threshold.
Additional optical grades of Monocrystalline and Polycrystalline CaF2 are processed including VUV, excimer grade (193nm, 248nm, 355nm) and IR grade. Raman grades for one single Raman peak only at 321cm-1 are stock small quantities in microscope slides, additional sizes made to order with  minimal fluorescence. CaF2 Coverslips are also supplied for research and laboratory use.
UQG optics Calcium Fluoride (CaF2) microscope slides and plates are made as squares and rectangles to a standard stock range or custom made to your design.
Please contact our sales team.

View RoHS Statement
| | |
| --- | --- |
| Dimensions: | Squares/Rectangles 1mm x 1mm to 100mm x 100mm & standard microscope sizes |
| Thickness Range: | 0.20mm to 3mm thick |
| Surface Quality: | 80/50 to 20/10 scratch/dig |
| Surface Flatness: | Up to 1 fringe (@633nm) |
| Material Options: | VUV grade, IR grade Monocrystalline & Polycrystalline |
| Coating Options: | AR coatings |
Purchase OEM production quantities?
Ask UQG for a quote we are a major single source supply chain global supplier.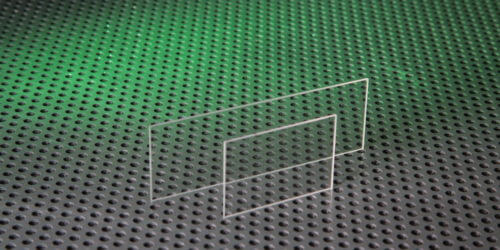 Material:
Calcium Fluoride (CaF2) - UV/IR Grade polycrystalline
Dimension Tolerance:
± 0.10mm
Thickness Tolerance:
± 0.10mm
Edge Finish:
Fine Ground & chamfered
Surface Quality:
40/20 scratch/Dig
Surface Flatness:
≤ 5 Fringes (@633nm)
Parallelism:
≤ 5 Arc mins
Please contact us for discount pricing for stock parts over 10+ and volume/OEM quantities