Germanium (Ge) Windows - Uncoated & AR/AR - AR DLC Coated
Germanium Windows with excellent transmission across 2-14 µm waveband and can be used in both mid-wave infrared (IR) and long wave IR systems. Germanium is a widely used material for IR windows and lenses in thermal imaging systems.
This high density window has a thermal escape which makes the transmission reduce as the temperature of the window increases. Germanium Windows are commonly used in defence and aerospace industries, life and medical sciences, industrial OEM and many other infrared applications.
UQG Optics stock 3 types of Germanium windows, uncoated, AR both sides coated and AR/DLC coated in a range of sizes. Our custom range involves an option of squares/rectangles, materal, shapes and much more.
Please contact our sales team or view all our IR Windows.

View RoHS Statement
| | |
| --- | --- |
| Dimensions: | Monocrystalline diameters 5mm to 300mm |
| | Polycrystalline diameters 5mm to 380mm |
| | Squares/Rectangles up to 200mm x 200mm |
| Thickness: | 0.50mm to 20mm (subject to Dimension) |
| Surface Flatness: | Up to lambda 4 (@633nm) |
| Material Options: | Polycrystalline |
| Coating Options: | AR coatings 3-14 microns |
| | DLC-Diamond coatings |
| Options; | Bevels, holes, wedges & shapes |
Purchase OEM production quantities?
Ask UQG for a quote we are a major single source supply chain global supplier.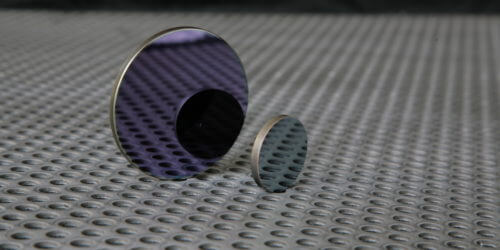 Material:
Germanium-Optical Grade-Monocrystalline
(N-Type, 5-40 ohm cm resistivity)
Diameter Tolerance:
+.00/-0.10mm
Thickness Tolerance:
± 0.10mm
Surface Quality:
60/40 Scratch/Dig
Surface Flatness:
≤ 5 Fringes (@633nm)
Parallelism:
≤ 3 Arc mins
Transmission Range:
IR 7-14 microns
AR/DLC
AR coated one side 7-14
Microns is a blue/pink/purple colour
2nd side DLC is black/dark grey colour
(hard diamond like carbon coating) Tavg > 80%
AR/AR
7-14 Microns Tavg > 85%
Please contact us for discount pricing for stock parts over 10+ and volume/OEM quantities