AR/AR Coated Germanium 3mm thick is an optical material that consists of Germanium with anti-reflective (AR) coatings applied to both surfaces.
Germanium is a commonly used material in infrared optics due to its high refractive index and excellent transmission in the infrared spectrum. The AR coatings are designed to reduce reflection and increase light transmission, resulting in improved optical performance. This material is ideal for applications such as thermal imaging, spectroscopy, and infrared cameras, where high sensitivity and precision are required. The AR/AR coating enhances the performance of Germanium optics by minimizing unwanted reflections and maximizing light throughput.
View all our Germanium Windows products.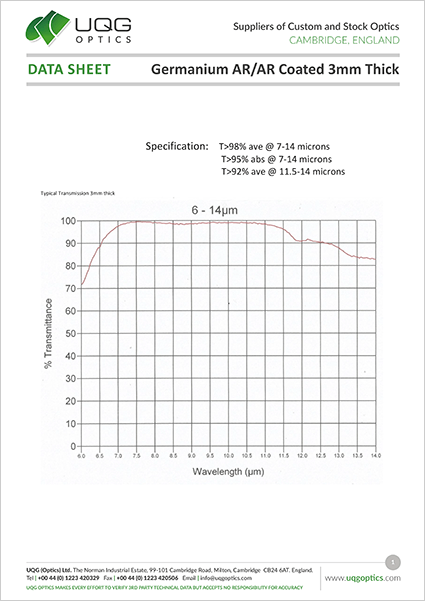 UQG OPTICS MAKES EVERY EFFORT TO VERIFY 3RD PARTY TECHNICAL DATA BUT ACCEPTS NO RESPONSIBILITY FOR ACCURACY.
PDF Download