AR/DLC (Amorphous Diamond-Like Carbon) coated Germanium 3mm thick is an optical material that combines the benefits of anti-reflective (AR) coatings with the protective properties of DLC.
Germanium is known for its excellent transmission in the mid-infrared region, making it suitable for thermal imaging and other infrared applications. The AR/DLC coating is specifically designed for the 7-14 microns wavelength range, further reducing surface reflections and enhancing optical performance in this specific range. The DLC layer provides a protective barrier against scratches, abrasion, and chemical damage, ensuring the longevity and durability of the Germanium optics. This combination of AR and DLC coatings makes AR/DLC coated Germanium an ideal choice for demanding applications in infrared imaging, spectroscopy, and thermal sensing.
View all our Germanium Windows products.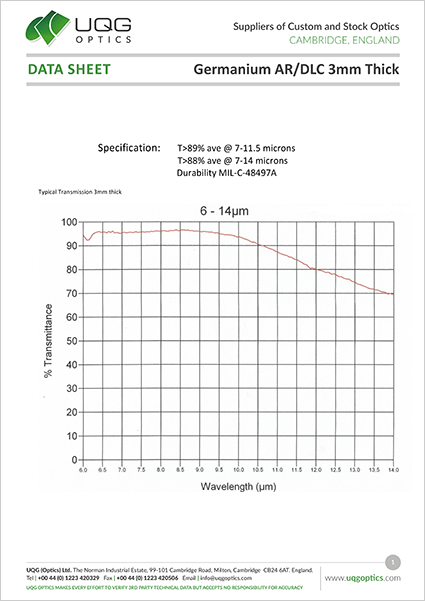 UQG OPTICS MAKES EVERY EFFORT TO VERIFY 3RD PARTY TECHNICAL DATA BUT ACCEPTS NO RESPONSIBILITY FOR ACCURACY.
PDF Download