Zinc Selenide ZnSe Windows
UQG Optics Zinc Selenide / ZnSe Windows is an optical material with a wide spectral range and low absorptivity at infrared wavelengths plus the visible transmissions. Zinc Selenide ZnSe-CVD transmits from 0.5 – 20 microns and is used for high power CO2 laser optics at 10.6 microns. It can be used as a protective optical window in FLIR (forward looking infrared) thermal imaging equipment for medical and industrial applications.
UQG Optics stock various diameters and can be custom made windows can be made in squares/rectangles and lenses with options of coatings and shapes.
Please contact our sales team or view all our IR Windows.

View RoHS Statement
| | |
| --- | --- |
| Materials: | Zinc Selenide CVD Grade |
| Dimensions: | Diameters 3mm to 250mm |
| | Squares/Rectangles 10mm x 10mm to 500mm x 300mm |
| Thickness Range: | 0.5mm to 15mm (Domes 200mm dia x 20mm thick) |
| Surface Flatness: | Up to Lambda 4 (@633nm) |
| Coating Options: | BBAR 8-12 microns & AR 10.60 microns |
| Options: | Drilled holes, shaped, wedges, squares & rectangles |
Purchase OEM production quantities?
Ask UQG for a quote we are a major single source supply chain global supplier.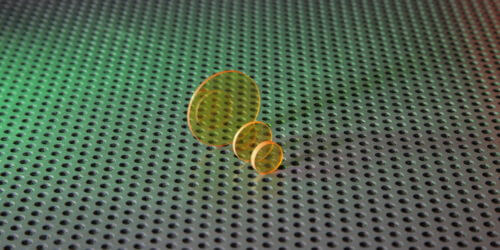 Material:
Zinc Selenide- CVD Grade (laser, medical, FLIR & thermal imaging)
Dimension Tolerance:
± 0.00/-0.10mm
Thickness Tolerance:
± 0.10mm
Surface Quality:
60/40 Scratch/Dig
Surface Flatness:
≤ 5 Fringes (@633nm)
Parallelism:
≤ 3 Arc mins
Transmission Range:
600nm to 21 Microns
Please contact us for discount pricing for stock parts over 10+ and volume/OEM quantities