Uncoated Germanium 3mm thick is an optical material known for its exceptional transmission in the infrared region, particularly in the mid-infrared range.
With its high refractive index, it is widely utilized in applications that require efficient infrared light transmission, including thermal imaging, spectroscopy, and remote sensing. Uncoated Germanium lenses, windows, and prisms are commonly used in optical systems to capture and manipulate infrared radiation. Its excellent optical properties, combined with its durability and resistance to thermal stress, make uncoated Germanium an ideal choice for demanding infrared applications.
View all our Germanium Windows products.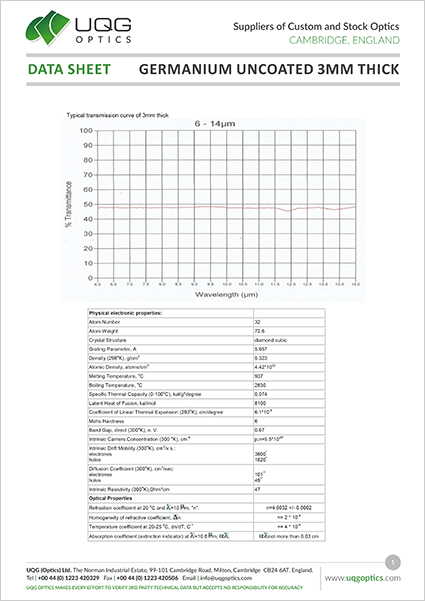 UQG OPTICS MAKES EVERY EFFORT TO VERIFY 3RD PARTY TECHNICAL DATA BUT ACCEPTS NO RESPONSIBILITY FOR ACCURACY.
PDF Download