Silicon (Si) Windows - Uncoated & AR Coated
UQG Optics optical grade Silicon Windows are made from the Czochralski method producing Silicon 99.9% pure. It has a transmission range of 1.2 to 8 microns (uncoated) but for 9 microns it has a strong absorption band which is fine for using at 3-5 microns, after this float zone silicon can be supplied which does not have this absorption. The material has many benefits being a low cost material, perfect for weight delicate applications due to its low density and making it harder and less brittle than germanium. Widely used for military, imaging, scientific industries and substrates for optical coatings.
UQG Optics stock Silicon Windows come in diameters uncoated or AR coated in 3-5 microns both sides. Our custom range has the options of coatings and designs to the window.
Please contact our sales team or view all our IR Windows.

View RoHS Statement
| | |
| --- | --- |
| Dimensions: | Diameters 5mm to 200mm Squares/Rectangles: 5mm to 140mm |
| | Squares/Rectangles: 5mm to 140mm |
| Thickness Range: | 0.5mm to 25mm (subject to dimension) |
| Edge Finish: | Ground or polished |
| Surface Quality: | 80/50 to 20/10 scratch/Dig |
| Parallelism: | Up to 1 arc minute |
| Material Options: | Float zone N or P type; purity > 6N, orientations <100> or <111>, resistivity >100 ohm, uncoated 55-57% @3-5 microns, Polycrystalline, Monocrystalline & EMI grade lower resistivity |
| Coating Options: | AR coatings from 1-8 microns & bandpass coatings |
| Options: | Drilled holes, shapes, wedges, squares & rectangles |
Purchase OEM production quantities?
Ask UQG for a quote we are a major single source supply chain global supplier.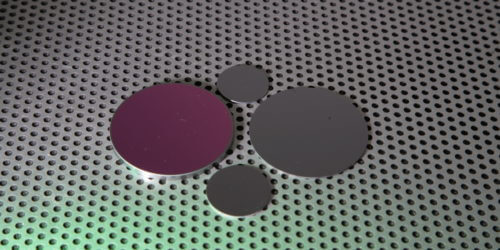 Material:
Silicon (optical) Monocrystalline Czochralski Grown (CZ)
Dimension Tolerance:
+0.00/ -0.10mm
Thickness Tolerance:
±0.10mm
Surface Quality:
40/20 Scratch/Dig
Surface Flatness:
1-2 Lambda (@633nm)
Parallelism:
≤ 3 Arc mins
Coating:
AR/AR 3-5 microns both sides
Transmission Range:
1.2-15 Microns (uncoated)
Please contact us for discount pricing for stock parts over 10+ and volume/OEM quantities