Fused Quartz Coverslips
Fused quartz coverslips are made in a high grade fused quartz material polished to a precision optical surface. They have greater optical characteristics not found in glass coverslips with improved optical performance, reduced light absorption, high temperature applications up to 1200°C (2192°F) and chemical stability.
The material has good UV and visible transparency for use in experiments for UV microscopy and UV Confocal microscopy such as preparing samples for viewing under a microscope enhancing image quality providing you with more accurate results. For greater purity UV Fused Silica coverslips are used which is fluorescent free and transmits down to 180nm.
UQG optics supply these too universities, colleges, biomedical, analytical and research and development organisations. Supplied in diameters and squares to a standard stock range in a range of standard laboratory thicknesses or custom made to your design.
Please contact our sales team.

View RoHS Statement
| | |
| --- | --- |
| Dimensions: | Diameters 5mm to 100mm |
| | Squares/Rectangles 1mm x 1mm to 100mm x 100mm |
| Thickness Range: | 0.1mm to 1.5mm (subject to dimension) |
| Surface Quality: | 80/50 to 20/10 scratch/dig |
| Surface Roughness: | <1 nm |
Purchase OEM production quantities?
Ask UQG for a quote we are a major single source supply chain global supplier.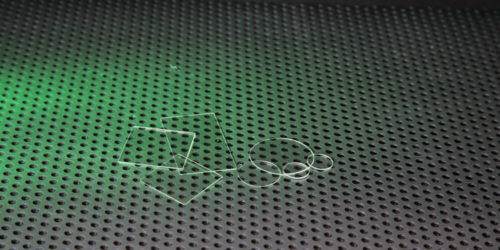 Material:
Standard Fused Quartz
Thickness Specification:
#No0 0.10mm thick 0.075/0.125mm thick
#No1 0.15mm thick 0.13/0.17mm thick
#No1.5 0.17mm thick 0.16/0.19mm thick
#No2 0.20mm thick 0.18/0.25mm thick
#No5 0.50mm thick 0.50/0.60mm thick
Surface Quality:
40/20 Scratch/Dig
Surface Flatness:
≤ 5 Fringes (@633nm)
Parallelism:
≤ 3 Arc mins
Parts sold as single items
Please contact us for discount pricing for stock parts over 10+ and volume/OEM quantities