Fused Quartz Plates
UQG Optics supply Fused Quartz Plates from a standard stock range or custom made dimensions and options. Fused Quartz plates are widely used for industry and science for its optical and mechanical properties. These properties make it resistant to chemicals, withstand high temperatures and thermal shock. It has a low thermal expansion and high transmission from UV 260nm to over 2 microns. UQG optics supply several grades from manufactures around the world for low cost commercial applications. This includes large Quartz plates up to 1 metre square for protecting equipment to precision optical windows with multi-layer coatings. It is machined to custom designs to a variety of shapes and thicknesses.
Please contact our sales team.

View RoHS Statement
| | |
| --- | --- |
| Dimensions: | Squares/Rectangles 1mm x 1mm to 500mm x 500mm |
| Thickness Range: | 0.10mm to 50mm (Subject to dimension) |
| Surface Quality: | 80/50 to 20/10 scratch/dig |
| Dimensions/Thickness: | Tol up to 0.02mm |
| Edge Finish: | Ground or polished |
| Surface Flatness: | Up to lambda 10 (@633nm) |
| Parallelism: | Up to 10 seconds |
| Material Options: | HOQ310, Commercial Grade Quartz, Infrasil & GE124 |
| Coating Options: | AR coatings |
| Options: | Edges polished, wedges, shapes, drilled holes & bevelled angles |
Purchase OEM production quantities?
Ask UQG for a quote we are a major single source supply chain global supplier.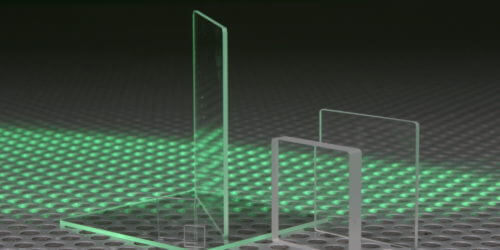 Dimension Tolerance:
+/-0.20mm
Thickness Tolerance:
+/- 0.10mm
Surface Quality:
60/40 Scratch/Dig
Surface Flatness:
3-5 Fringes (@633nm) per 25mm x 25mm
Parallelism:
≤ 5 Arc mins
Please contact us for discount pricing for stock parts over 10+ and volume/OEM quantities