UV Fused Silica Coverslips
UQG Optics supply UV Fused Silica Coverslips. The material is very high purity with enhanced UV & VUV transparency transmitting from 160nm to over 2 microns useful for UV confocal and UV microscopy. The coverslips will be fluorescence free and can withstand temperatures over 1000°C making it useful for high temperature microscope stages. The surfaces have very smooth micro roughness. Used in UV microscopes for UV spectroscopy and cell research in laboratories, they are supplied to universities, colleges, biomedical, analytical research and R&D research.
Custom sizes are made in larger sizes listed with additional custom thicknesses on request.
Please contact our sales team.

View RoHS Statement
| | |
| --- | --- |
| DIMENSIONS: | Diameters 5mm to 100mm |
| | Squares/Rectangles 1mm x 1mm to 60mm x 60mm/1mm x 1mm to 100mm x 100mm |
| THICKNESS RANGE: | 0.1mm to 1.5mm Coverslips (subject to dimension) |
| MATERIAL OPTIONS: | Corning 7980 class O grade F & Heraeus Spectrosil 2000® |
Purchase OEM production quantities?
Ask UQG for a quote we are a major single source supply chain global supplier.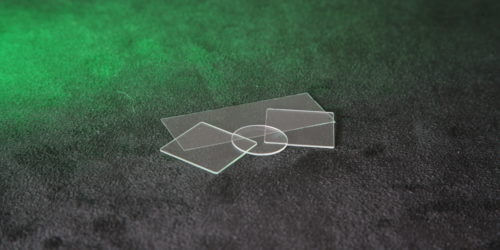 MATERIAL:
UV Fused Silica - Heraeus Spectrosil 2000® or equivalent
DIMENSION TOLERANCE:
±0.20mm
THICKNESS SPECIFICATION:
#No0 0.10mm thick 0.075/0.125
#No1 0.15mm thick 0.13/0.17mm thick
#No1.5 0.17mm thick 0.16/0.19mm thick
#No2 0.20mm thick 0.18/0.25mm thick
0.50mm thick (+/-.05mm) thick
SURFACE QUALITY:
40/20 Scratch/Dig
SURFACE FLATNESS:
≤ 5 Fringes (@633nm)
PARALLELISM:
≤ 3 Arc mins
Parts sold as single items
Please contact us for discount pricing for stock parts over 10+ and volume/OEM quantities