ITO Fused Quartz Coverslips
UQG Optics ITO Coated Fused Quartz Coverslips are standard optically polished Fused Quartz Coverslips deposited with an ITO layer on one side. The Fused Quartz has good purity and higher transmission than standard glass ITO Coverslips. It can withstand temperatures of 1000°C and are very robust. In some experiments or applications a purer Fused Quartz material is required so a good option is UV Fused Silica, this can be custom ITO Coated from a range of standard stock UV Fused Silica Coverslips.
UQG Optics stock ITO Coated Fused Quartz Coverslips in a range of sizes with an option to custom make in Sapphire or Fused Silica.
Please contact our sales team.

View RoHS Statement
| | |
| --- | --- |
| Dimensions: | Diameters 5mm to 150mm |
| | Squares/Rectangles 1mm x 1mm to 150mm x 150mm |
| Thickness Range: | 0.10mm to 6mm |
| Material Options: | Fused Silica & Sapphire |
| Coating Options: | Additional standard resistivity's & AR coatings |
Purchase OEM production quantities?
Ask UQG for a quote we are a major single source supply chain global supplier.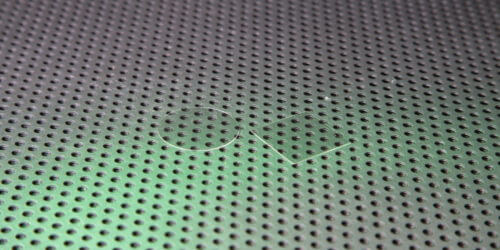 Dimension Tolerance:
+0.00/ -0.10mm
Thickness Tolerance:
0.5mm (±0.05mm) 0.20mm (+0.05/-0.02mm) 0.15mm (±0.02mm) 0.17mm (+0.02/0.01mm)
Surface Quality:
40/20 Scratch/Dig
Surface Flatness:
≤ 5 Fringes (@633nm)
Parallelism:
≤ 3 Arc mins
Coatings:
ITO coating one side
ITO Thickness 350nm (approx.)
Please contact us for discount pricing for stock parts over 10+ and volume/OEM quantities