ITO Glass Windows & Plates
UQG optics ITO glass windows and plates are indium tin oxide for an electrically conductive coating. ITO coated glass is stocked in standard sizes or custom cut from larger sheets. The materials are either Float glass or Schott Borosilicate. These are coated by two processes either a hot or cold ITO coating depending on the resistivity, below 8 ohms/sq is the hot process and above 8 ohms/sq room temperature is the cold process. A standard range of resistivity's are stocked in 4.5 ohms/sq, 8-12 ohms/sq, 15 ohms/sq, 12-15 ohms/sq and 50 ohmsq/sq. Some grades of polished Float glass have a 20nm SiO2 barrier layer and coated for smooth surfaces for OLED applications.
Custom options include busbar strips, OLED grade index matched ITO AR coatings and sheet resistance from 2.50 to 1000 ohms/sq. The ITO is widely used in displays, EMC/EMI/RFI shielding, circuit substrates, de-icing windows and research.
Please contact our sales team.

View RoHS Statement
| | |
| --- | --- |
| Dimensions: | Diameters 5mm to 100mm |
| | Squares/Rectangles 1mm x 1mm to 1000mm x 1000mm |
| Thickness Range: | 0.10mm to 10mm (subject to dimension) |
| Coating Options: | Additional standard resistivity's & AR coatings |
Purchase OEM production quantities?
Ask UQG for a quote we are a major single source supply chain global supplier.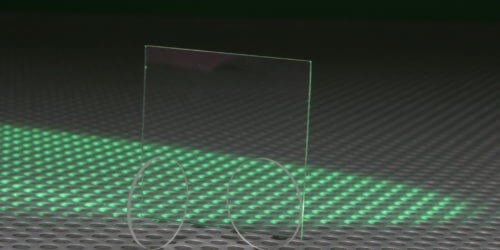 Material:
ITO Coated Float Glass
Dimension Tolerance:
Diameter + 0.00/-0.20mm Squares ± 0.25mm Squares ± 0.25mm
Thickness Tolerance:
± 0.10mm
Edge Finish:
Diameters ground & Squares as cut/bevelled
Surface Quality:
60/40 Scratch/Dig
Surface Flatness:
≤10 Fringes per 25mm x 25mm (@633nm)
Coatings:
Resistance ≤12-15 ohms square ITO coating thickness 150nm
Adhesion to glass: MIL-M-13508 4.4.6
Abrasion resistance: MIL-E-12397.B
Please contact us for discount pricing for stock parts over 10+ and volume/OEM quantities