'Z' Cut Quartz Coverslips & Slides
UQG Optics Z Cut Quartz coverslips and slides are Quartz coverslips with the optical axis cut perpendicular to the window surface. The Z cut or zero degree cut Quartz coverslip is made to a precise thickness for your microscope or for use in optical applications. Our stock Z Cut Quartz coverslips and slides are made from an optical grade of Quartz to a right hand orientation. Thicknesses can be supplied as low as 0.05mm and highly optically polished both sides.
UQG Optics stock Z Cut Quartz coverslips and slides are stocked in many sizes with the option to custom make to a desired specification including AR coatings.
Please contact our sales team.

View RoHS Statement
| | |
| --- | --- |
| Material: | Right & Left Handed |
| | SAW Electronic Grade - Grade 1 |
| | Cut to X,Y & Z orientation |
| Dimensions: | Diameters 5mm to 150mm |
| | Squares 1mm - 100mm |
| Thickness Range: | 0.1mm to 10mm |
| Parallelism: | Up to 30 arc seconds |
Purchase OEM production quantities?
Ask UQG for a quote we are a major single source supply chain global supplier.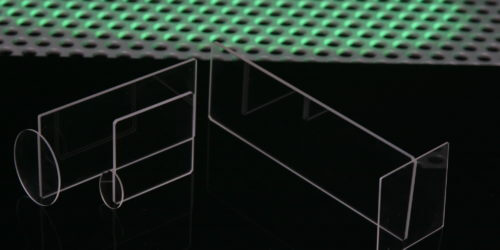 Material:
Crystalline 'Z' Cut Quartz - Optical Grade - Right Hand Cut
Surface Quality:
40/20 Scratch/Dig both sides
Surface Flatness:
≤ 5 Fringes (@633nm)
Dimension Tolerance
Diameter +0.00/-0.10mm
Thickness Tolerance:
± 0.02mm
Please contact us for discount pricing for stock parts over 10+ and volume/OEM quantities