Mounted UV/IR Blocking Filters
UQG Optics mounted UV/IR Blocking filters are made in Hoya or Schott absorptive filter material and also a multi layered coated Optical glass. These filters are primarily used to block unwanted IR and transmit the visible range or designed to transmit the infrared only. They protect systems and sensors from harmful IR radiation and commonly used in camera and machine vision applications. The filters are mounted into black 5.50mm thick filter mounts in a range threaded screw mounts from our stock range. We can also supply custom mounts from 25.50mm to 105mm with added screen printed.
Please contact our sales team.

View RoHS Statement
| | |
| --- | --- |
| Mount Dimensions: | M25.50 to M105.00mm |
| Mount Option: | Screen printed |
| Material Options: | Filters from Schott® & Hoya® |
Purchase OEM production quantities?
Ask UQG for a quote we are a major single source supply chain global supplier.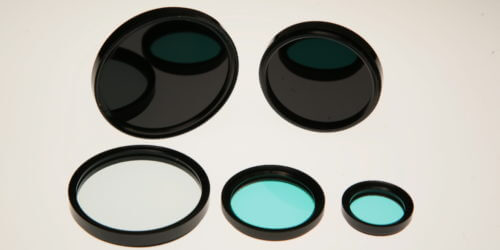 Surface Quality:
60/40 Scratch/Dig
Spectral Data:
720/2750nm
Surface Quality:
60/40 Scratch/Dig
MOUNTED UV/IR BLOCKING FILTER
Coating:
Multilayer coated AR coated
Please contact us for discount pricing for stock parts over 10+ and volume/OEM quantities