Heat Absorbing Filters
Heat absorbing glass filters are made from heat absorbing filter glass material, absorbing the infrared (IR) region and dispelling heat into the air. Filters can be toughened/tempered to place the surface in tension to increase the resistance to thermal shock and breakage. These heat filters are also supplied un-toughened when the characteristics of the filter are suitable for the application. It also acts as a short pass filter, passing the visible and blocking the IR.
Used widely for projectors, illumination equipment and scientific instruments.
UQG optics Heat absorbing filters are made as diameters and squares to a standard stock range or custom made.
Please contact our sales team.

View RoHS Statement
| | |
| --- | --- |
| Dimensions: | Diameters 5mm to 160mm |
| | Squares/Rectangles 1mm x 1mm to 165mm x 165mm |
| Thickness Range: | 0.50mm to 6.00mm (subject to dimension) |
Purchase OEM production quantities?
Ask UQG for a quote we are a major single source supply chain global supplier.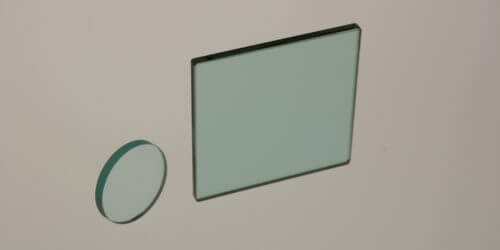 Material:
SCHOTT ® Glass Toughened
Dimension Tolerance:
Diameters ±20mm squares ±0.20mm
Thickness Tolerance:
± 0.10mm
Surface Quality:
60/40 Scratch/Dig
Surface Flatness:
Ø 25mm ≤ 5 Fringes (@633nm)
50 x 50mm ≤ 8 Fringes (@633nm)
Parallelism:
≤ 3 arc mins
Please contact us for discount pricing for stock parts over 10+ and volume/OEM quantities