Mounted UV/IR Blocking Filters are optical filters designed to selectively block ultraviolet (UV) and infrared (IR) radiation while transmitting visible light.
These filters are constructed by depositing multiple layers of dielectric coatings onto a substrate material, such as glass or quartz. The coatings are carefully engineered to exhibit high transmission in the visible spectrum while efficiently blocking unwanted UV and IR wavelengths. Mounted UV/IR Blocking Filters are commonly used in photography, imaging systems, and various applications where precise control of light is necessary. They provide protection against UV radiation that can cause image degradation, while also reducing unwanted heat from IR radiation. With their compact and convenient mountings, these filters offer easy integration into optical setups, ensuring reliable and efficient blocking of UV and IR light while allowing the transmission of visible light.
View all our Mounted UV/IR Blocking Filters products.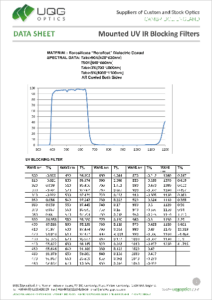 UQG OPTICS MAKES EVERY EFFORT TO VERIFY 3RD PARTY TECHNICAL DATA BUT ACCEPTS NO RESPONSIBILITY FOR ACCURACY.
PDF Download