Optical Domes
UQG Optics Optical Domes are ideal for visible and infrared applications and give a protective window due to its half sphere shape. They are stocked in high quality N-BK7 or Fused Quartz which are ideal for extreme environments as they have robust protective properties.
We supply Optical Domes which are used for defence, underwater cameras and imaging applications for subsea high pressure environments.
UQG optics optical Domes are available in BK7 and Fused Quartz in custom made sizes or supplied from stock. With additional materials including Sapphire and UV Fused Silica.
Please contact our sales team.

View RoHS Statement
| | |
| --- | --- |
| Materials: | Schott® N-BK7, Fused Quartz, UV Fused Silica, Sapphire, Silicon, Germanium & Optical Glasses |
| Dimension Range: | 15mm Diameter to 110mm Diameter |
Purchase OEM production quantities?
Ask UQG for a quote we are a major single source supply chain global supplier.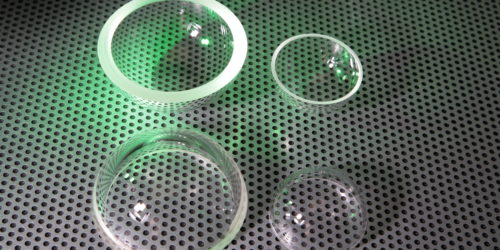 Material:
Schott® N-BK7 & Fused Quartz
Dimension Tolerance:
± 0.10mm
Thickness Tolerance:
± 0.10mm
Surface Quality:
60/40 Scratch/Dig
Surface Accuracy:
≤ 5 Fringes (@633nm)
Wall Thickness:
ODB-252 - 2mm wall thickness TOL: ±0.10mm OD Radius 12.50mm height
ODB-502 - 2mm wall thickness TOL: ±0.10mm OD Radius 25mm height
ODQ-807 - 7mm wall thickness TOL: ±0.10mm OD Radius 40mm height
Please contact us for discount pricing for stock parts over 10+ and volume/OEM quantities
Part Number
ODB-252
PDF Data sheet
Diameter (mm) Ø 25
Thickness (mm) 12.50
UNIT PRICE (1-10)
£105.00 Inc. VAT
Part Number
ODB-502
PDF Data sheet
Diameter (mm) Ø 50
Thickness (mm) 25
UNIT PRICE (1-10)
£156.00 Inc. VAT
Part Number
ODQ-807
PDF Data sheet
Diameter (mm) Ø 79.3
Thickness (mm) 35
UNIT PRICE (1-10)
£1,050.00 Inc. VAT