BK7 Plano Convex & Bi-Vex Lenses
UQG Optics BK7 Plano convex and bi vex optical lenses are a high quality optical component and provide superior surface quality. They have a positive focal length and have one spherical surface and one flat surface or can be a bi-vex surface. They can be used to converge collimated beams or collimate light from a point source and are ideal for all-purpose focusing elements. For shorter wavelengths we use other optical glasses like SF11.
They are used in imaging systems, lasers and detectors. We can offer single and multi AR coatings to all wavelengths. They are supplied in a low cost grade to precision quality for OEM production.
Please contact our sales team.

View RoHS Statement
| | |
| --- | --- |
| Dimensions: | Diameters 3mm to 300mm |
| Edge Finish: | Blackened |
| Surfaces: | 80/50 to 20/10 Scratch dig |
| Centration: | To 30 seconds |
| Focal Length: | To 0.15mm |
| Coating Options: | Single & multi layer AR to all wavelengths |
Purchase OEM production quantities?
Ask UQG for a quote we are a major single source supply chain global supplier.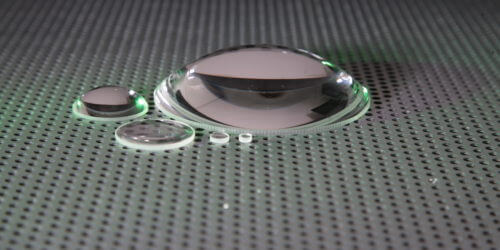 Material:
N-BK7 grade A optical glass
Diameter Tolerance:
+0.00/0.10mm
Edge Thickness:
25mm dia (1.50mm ± 0.10mm)
Surface Quality:
40/20 Scratch/Dig (uncoated)
Coating:
VIS NIR 400-700nm
Please contact us for discount pricing for stock parts over 10+ and volume/OEM quantities