Flow Plates
Laser glass flow plates are used in laser systems as a protection plate to other components. Depending on the material they reduce the amount of harmful radiation. These stock flow plates are made of doped Cerium glass shifting the harmful UV but are non-browning so can withstand long periods of radiation without any colour change to the glass. There are other radiation resistant glasses including Borosilicate, Quartz and UV Fused Silica which are also used in the manufacture of flow plates for certain laser systems. They are additionally useful for camera protection windows and viewpoints into sensitive, high radiation environments and space applications.
Please contact our sales team.

View RoHS Statement
| | |
| --- | --- |
| Dimensions: | Squares/Rectangles 5mm x 5mm to 160mm x 160mm |
| Thickness Range: | 1mm to 10mm |
| Surface Quality: | 80/50 to 20/10 scratch/dig |
| Surface Flatness: | Up to lambda 1 (@633nm) |
| Material Options: | Borosilicate, Quartz & UV Fused Silica |
Purchase OEM production quantities?
Ask UQG for a quote we are a major single source supply chain global supplier.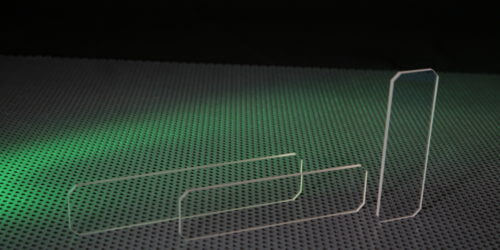 Material:
Schott® N-BK7 G18
Dimension Tolerance:
+/- 0.10mm
Thickness Tolerance:
+/- 0.10mm
Edge Finish:
Ground & chamfered
Surface Quality:
60/40 Scratch/Dig
Surface Flatness:
5-10 Fringes (@633nm)
Parallelism:
≤ 5 Arc mins
Please contact us for discount pricing for stock parts over 10+ and volume/OEM quantities
Part Number
FPL-9622
PDF Data sheet
Thickness (mm) 2.70
Dimensions (mm) 96.60 x 31.70
UNIT PRICE (1-10)
£54.00 Inc. VAT
Part Number
FPL-1222
PDF Data sheet
Thickness (mm) 2.70
Dimensions (mm) 122.10 x 31.70
UNIT PRICE (1-10)
£81.00 Inc. VAT
Part Number
FPL-1482
PDF Data sheet
Thickness (mm) 2.70
Dimensions (mm) 148.30 x 31.70
UNIT PRICE (1-10)
£95.00 Inc. VAT