Schott N-BK7 G18 is an optical glass known for its exceptional optical properties and excellent mechanical stability.
It is a type of borosilicate glass that offers high transmittance and low dispersion across a wide wavelength range. N-BK7 G18 is often used as a standard reference material in various optical applications, including lenses, prisms, windows, and mirrors. Its precise refractive index and low thermal expansion coefficient make it suitable for achieving accurate and reliable optical performance. This glass is highly regarded for its excellent surface quality, chemical resistance, and durability, making it a preferred choice for demanding optical systems. With its well-established optical characteristics and reliability, Schott N-BK7 G18 is a widely adopted material in scientific, industrial, and commercial optical applications.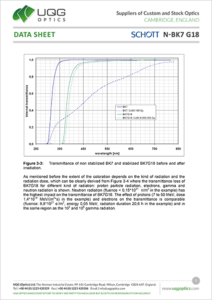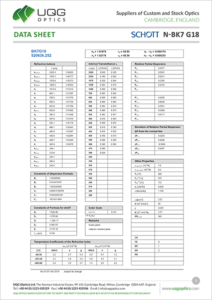 UQG OPTICS MAKES EVERY EFFORT TO VERIFY 3RD PARTY TECHNICAL DATA BUT ACCEPTS NO RESPONSIBILITY FOR ACCURACY.
PDF Download