UV Fused Silica Plates
UQG Optics supply UV Fused Silica plates and substrates. The UV Fused Silica material has excellent purity, no fluorescence and high transmission in the DUV, UV and IR region from 180nm to 2000nm. The optical grade Fused Silica is virtually bubble free with resistance to chemicals, withstanding high temperatures and thermal shock. We process many grades from global manufactures. These can be large Fused Silica plates for industrial scientific applications, to precision beamsplitters. Stock thicknesses in the Fused Silica plates range are from 0.50mm to 6mm but these can be made a lot thinner with thicknesses below 0.50mm. A range below this is UV Fused Silica coverslips with thicknesses down to 0.10mm thick.
Please contact our sales team.

View RoHS Statement
| | |
| --- | --- |
| Dimensions: | Squares/Rectangles 1mm x 1mm to 300mm x 300mm |
| Thickness: | 0.1mm to 50mm (subject to dimension) |
| Dimension/Thickness: | Tol to 0.02mm |
| Edge Thickness: | Ground or polished |
| Surface Quality: | 80/50 to 20/10 scratch/dig |
| Surface Flatness: | Up to lambda 10 (@633nm) |
| Parallelism: | Up to 10 seconds |
| Material Options: | Corning HPFS 7980, KrF & ArF grade, Commercial Grade UV Silica & Heraeus Spectrosil 2000®, Heraeus Suprasil® I, 2 grade A & B, 311, 312, 3001, 3002 |
| Coating Options: | AR coatings from 193nm to 2000nm |
| Options: | Edges polished, wedges, shapes, drilled holes & bevelled angles |
Purchase OEM production quantities?
Ask UQG for a quote we are a major single source supply chain global supplier.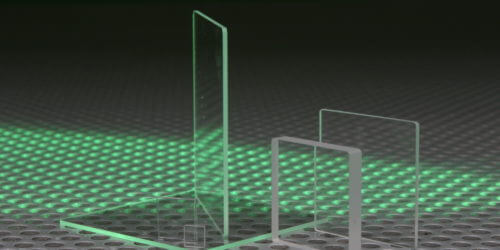 Material:
UV Fused Silica - Spectrosil 2000®
Dimension Tolerance:
+/-0.10mm
Thickness Tolerance:
+/-0.10mm
Edge Finish:
Fine ground & chamfered
Surface Quality:
40/20 Scratch/Dig
Surface Flatness:
3-5 Fringes (@633nm) per 25mm x 25mm
Parallelism:
≤ 5 Arc mins
Please contact us for discount pricing for stock parts over 10+ and volume/OEM quantities