Coating Witness Pieces
Optical coating witness sample test pieces for thin film coating will match your finished product, allowing testing without using the finished part. This can be used for testing transmission to measure reflectivity, temperature, durability, polarization and salt fog tests. Running the sample run and monitoring the future runs. With a wide range of materials for the UV to IR in refractive index's values range from 1.43nd to 4.00 nd. Normally made to 25mm or 1" (25.40mm dia) in thickness of 1mm to 3mm. Other sizes and thickness can be made to custom specification. Additional test pieces are made as wedged windows in all materials.
Please contact our sales team.

View RoHS Statement
| | |
| --- | --- |
| Dimensions: | Diameters 5mm to 150mm |
| Thickness Range: | 0.10mm to 50mm |
| Surface Quality: | 80/50 to 20/10 Scratch/Dig ground or diffused |
| Surface Flatness: | Up to lambda 4 (@633nm) |
| Material Options: | Schott & Ohara Optical Glass full range of refractive index's, Silicon, Germanium, Sapphire, Zinc Sulphide Multi-Clear, IR Quartz, Zinc Selenide, B270, Float glass, Fused Quartz, Borosilicate, Fused Silica (standard range available in 25mm dia ex-stock) |
| Options: | Substrates, discs, squares & wedges |
Purchase OEM production quantities?
Ask UQG for a quote we are a major single source supply chain global supplier.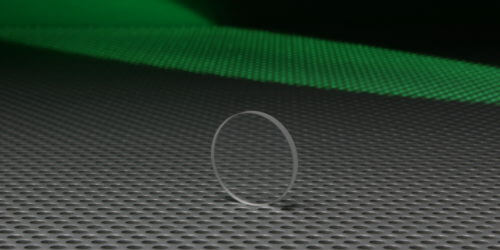 Material:
Ohara Optical Glass & Schott Glass
Dimension Tolerance:
+0.00/-0.10mm
Thickness Tolerance:
±0.10mm
Edge Finish:
Ground & chamfered
Surface Quality:
60/40 Scratch/Dig
Surface Flatness:
1-3 Fringes (@633nm)
Parallelism:
≤ 3 Arc mins
Please contact us for discount pricing for stock parts over 10+ and volume/OEM quantities