B270i Windows & Plates
B270i Ultra white crown glass windows and plates make a good choice when a simple clear glass material is required and is optically crystal clear with high transmission in the visible range. The surfaces are fire polished and highly resistant to solar radiation offering a low cost solution. They act as good window to protect elements between two environments and a good choice for a display window, touch panels, laboratory and biotechnology applications. They are used for many applications for scientific and commercial OEM production requirements. Widely used for telecom windows, camera windows and glass screens.
UQG optics B270i windows and plates are made as diameters, squares and shapes to a standard stock range and in a full range of thicknesses. Custom made to your design and AR coatings can also be applied.
Please contact our sales team.

View RoHS Statement
| | |
| --- | --- |
| Dimensions: | Diameters 5mm to 250mm |
| | Squares/Rectangles 1mm x 1mm to 406mm x 258mm |
| Thickness Range: | 0.90mm, 1.15mm, 1.65mm, 2mm, 2.5mm, 3mm, 4mm, 5mm, 6mm, 8mm & 10mm |
| Dimension/Thickness: | Tol up to 0.02mm |
| Surface Quality: | 80/50 to 20/10 scratch/Dig |
| Surface Flatness: | Up to lambda 10 (@633nm) |
| Parallelism: | Up to 10 seconds |
| Options: | Toughened, drilled, bevelled angles, optical coatings & shapes |
Purchase OEM production quantities?
Ask UQG for a quote we are a major single source supply chain global supplier.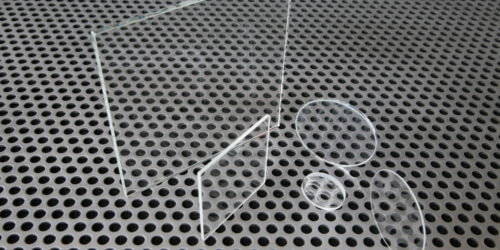 Material:
B270i® Polished Plate
Dimension Tolerance:
Diameters +0.00/ -0.20mm
Squares ±0.10mm up to 25mm x 25mm
Squares ±0.20mm over 25mm x 25mm
Thickness Tolerance:
1mm ±0.10mm 2mm, 3mm, 4mm ±0.20mm
Edge Finish:
Squares fine ground up to 25mm x 25mm
Squares as cut/chamfered over 25mm x 25mm
Surface Quality:
Plate 80/50 Scratch/Dig
Surface Flatness:
1-2 Fringes per 25mm dia (@633nm)
Parallelism:
≤ 5 Arc mins
Please contact us for discount pricing for stock parts over 10+ and volume/OEM quantities