Flashed Opal Diffuser Windows & Plates
White flashed opal diffusers have one surface flashed with a white opal layer. It can produce near Lambertian source, diffusing light thoroughly with a high amount of scattering, ideal when intense diffusing is required. Layer thickness can change from batch to batch due to the manufacturing process.
Please note the Flashed Opal Glass material has been discontinued by the manufacturer and is available in limited sizes but UQG still hold significant amounts in stock. An alternative material is manufactured to give the same apperence for lighting applications.
UQG optics white flashed opal diffuser window and plates are made as diameters and squares to a standard stock range or custom made to your design.
Please contact our sales team.

View RoHS Statement
| | |
| --- | --- |
| Dimensions: | Diameters 5mm to 100mm |
| | Squares/Rectangles 5mm x 5mm to 100mm x 100mm |
| Thickness Range: | 3mm & 4mm |
| Limited material available | |
Purchase OEM production quantities?
Ask UQG for a quote we are a major single source supply chain global supplier.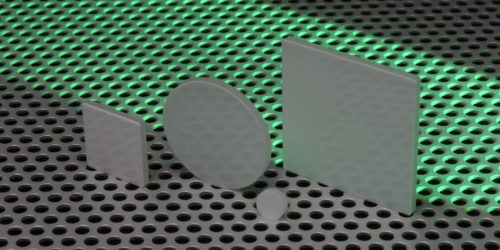 Material:
Flashed White Opal
Dimension Tolerance:
+0.00 / -0.20mm
Thickness Tolerance:
±0.30mm
Diffused Surface:
Opal layer
Second Surface:
80/50 Scratch/Dig
Flashed Opal Layer Thickness:
0.45mm (+0.35mm /-0.20mm)
Please contact us for discount pricing for stock parts over 10+ and volume/OEM quantities