UV Diffusers Windows & Plates
UQG Optics UV Fused Silica diffusers are manufactured in a range of Fused Silica for use in the (UV) ultraviolet, (VIS) visible and (IR) infrared regions.  UV grade fused silica  transmission range is from 175nm – 2700nm. UV Glass diffusers diffuse the incoming light and reduce directionality in the beam. Ground glasses are useful for focusing screens and weak diffusion illumination systems. It is ideal for rear projection and a variety of optical applications in science and industry.
UQG Optics UV glass diffusers come in stock sizes of diameters and squares. Custom diffusers can be made to a range of surface roughness/diffusions from fine etched micron surfaces to course grit grinding or sandblasted.
Please contact our sales team.

View RoHS Statement
| | |
| --- | --- |
| Dimensions: | Diameters 5mm to 300mm |
| | Squares/Rectangles 1mm x 1mm to 250mm x 250mm |
| Thickness Range: | 1mm to 10mm (subject to dimension) |
| Diffused Surface: | 10-100 microns - 15 grades |
| Material Options: | Corning 7980 class O grade F & Heraeus Spectrosil 2000® |
| Options: | Shapes, holes & bevels |
Purchase OEM production quantities?
Ask UQG for a quote we are a major single source supply chain global supplier.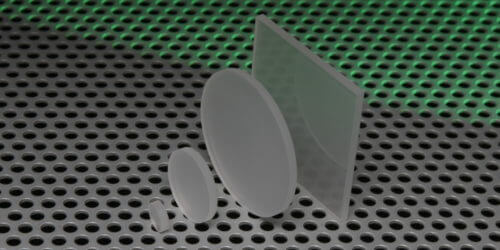 Material:
UV Fused Silica - Spectrosil 2000®
Dimension Tolerance:
± 0.20mm
Thickness Tolerance:
± 0.10mm
Surface Quality:
60/40 Scratch/Dig
Diffused Surface:
Ground 35 micron one side
Please contact us for discount pricing for stock parts over 10+ and volume/OEM quantities