Colour Separating Mirrors
The colour beamsplitting separating mirrors are absorption free inference filters of extremely hard, chemically resistant oxide films. They offer sharp separation of transmitted and reflective regions. They are non-fading, have high saturation and easy to clean. They are designed for 45° angle of incidence, greater angles of incidence cause a reversible shift in the spectral transmission and reflection edge towards shorter wavelengths, supplied in 3 colours, Red, Blue and Green.
UQG optics Colour Separating Mirrors are made as diameters and squares to a standard stock range or made to custom optical designs.
Please contact our sales team.

View RoHS Statement
| | |
| --- | --- |
| Dimensions: | Diameters 5mm to 400mm |
| | Squares/Rectangles 1mm x 1mm to 300mm x 300mm |
| Thickness Range: | 1.10mm to 3.00mm |
Purchase OEM production quantities?
Ask UQG for a quote we are a major single source supply chain global supplier.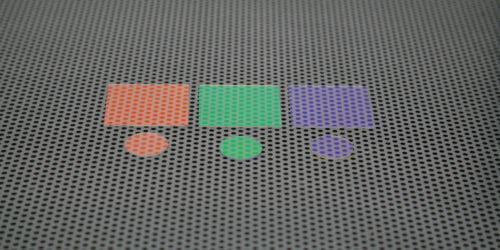 Material:
Borosilicate Coated Glass
Dimension Tolerance:
Diameters +0.00/-0.20mm
Thickness Tolerance:
±0.10mm
Edge Finish:
Diameters ground squares as cut/bevelled
Blue - Spectral Data:
T≤ 5% Abs.400-450nm
Green - Spectral Data:
T≥80% Avg. 400-480nm
Red - Spectral Data:
T≥ 80% Avg.400-560nm
Please contact us for discount pricing for stock parts over 10+ and volume/OEM quantities