Cold Mirrors
UQG Cold Mirrors are suited for high power illumination systems when high temperature lighting is not desired. Separating the heat from light radiation they reflect visible light and transmit the infrared dividing the IR and visible more sharply. They can made for 0° and 45° incidence cut from large standard sheets or precision made on a full range of materials.
Widely used in optical and photonic imaging systems and often used for transmitting the near infrared spectrum.
UQG optics can offer a range of stock sizes and can custom make up to 400m dia and 300mm squares/rectangles with various coating options.
Please contact our sales team.

View RoHS Statement
| | |
| --- | --- |
| Dimensions: | Diameters 5mm to 400mm |
| | Squares/Rectangles 1mm x 1mm to 300mm x 300mm |
| Thickness Range: | 1.10mm to 3.00mm |
| Coating Options: | AOI 0° & 45° & custom Cold Mirror wavelengths |
Purchase OEM production quantities?
Ask UQG for a quote we are a major single source supply chain global supplier.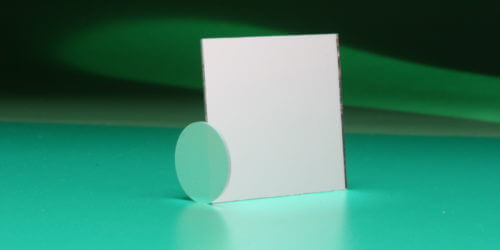 Material:
Borosilicate Coated Glass CM-05
Dimension Tolerance:
Diameters +0.00/-0.20mm
Thickness Tolerance:
Diameters ±0.10mm
Edge Finish:
Diameters ground squares as cut/chamfered
Spectral Data::
VIS Reflection 400-700nm Ravg.≥97%
IR Transmission 750-2500nm Tavg.≥88%
Transmission 50% @ 740 (±10nm)
Please contact us for discount pricing for stock parts over 10+ and volume/OEM quantities
Part No
Data
sheet
Description
Dimensions (mm)
Thickness (mm)
Unit price
(1-10)


Qty


Qty
(10+)

Volume pricing available for 10+, please add to quote.

CMK-2510
PDF
Cold Mirror
Ø 25
1.10
£21.00
CMK-5051
PDF
Cold Mirror
50 x 50
1.10
£32.00
Part Number
CMK-5051
PDF Data sheet
Dimensions (mm) 50 x 50
Thickness (mm) 1.10
Focal Length (mm) 0
UNIT PRICE (1-10)
£32.00 Inc. VAT
Part Number
CMK-2510
PDF Data sheet
Thickness (mm) 1.10
Dimensions (mm) Ø 25
Focal Length (mm) 0
UNIT PRICE (1-10)
£21.00 Inc. VAT