UV Filter/NIR Blocker
UV Filter NIR Blocker is made from Schott UG11 which is a transmitting filter glass. It provides an excellent higher level of blocking in the visible and NIR by merging the UG 11 glass with a hard coated dielectric layer. It providesan excellent blocking at 720nm and the NIR. The coating is also a protection against external influences and UV radiation.
These filters are used in spectroscopy, water purification, chemical analysisand analytical instrumentation.
UQG Optics offers diameters and squares and can also be made in a custom size.
Please contact our sales team.

View RoHS Statement
| | |
| --- | --- |
| Dimensions: | Diameters 5mm to 50mm |
| | Squares/Rectangles 3mm x 3mm to 50mm x 50mm |
| Thickness Range: | Standard 2mm |
Purchase OEM production quantities?
Ask UQG for a quote we are a major single source supply chain global supplier.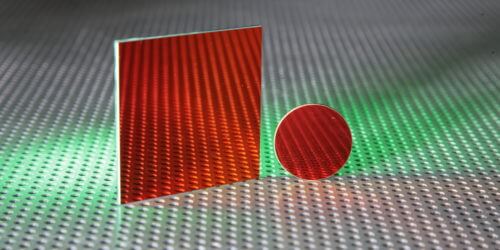 Material:
Schott® UG11 Dielectric Coated
Dimension Tolerance:
+00/-0.20mm
Thickness Tolerance:
± 0.10mm
Edge Finish:
Fine Ground & chamfered
Specification:
Half band width 70nm
Blocking < 270nm T<0.001%
Please contact us for discount pricing for stock parts over 10+ and volume/OEM quantities
Part Number
UGB-5052
PDF Data sheet
Thickness (mm) 2
Dimensions (mm) 50 x 50
UNIT PRICE (1-10)
£505.00 Inc. VAT
Part Number
UGB-125
PDF Data sheet
Thickness (mm) 2
Dimensions (mm) Ø 12.5
UNIT PRICE (1-10)
£165.00 Inc. VAT
Part Number
UGB-252
PDF Data sheet
Thickness (mm) 2
Dimensions (mm) Ø 25
UNIT PRICE (1-10)
£320.00 Inc. VAT