AR Coated Glass Precision - Windows, Plates & Sheets
AR coated precision glass is a multi-layer dielectric sheet glass AR coated. It has excellent durability and high transmission. The glass is coated to MILSPEC MIL-C-675C and is stocked in a good size range of thicknesses and sizes. Designed to minimize reflection and maximize transmittance on glass substrates over the visible spectrum.
UQG supply the AR coated precision glass either as single or double sides coated in a stock or custom made size range in diameters, squares, rectangles and shapes.
Please contact our sales team.

View RoHS Statement
| | |
| --- | --- |
| Dimensions: | Diameters 5mm to 550mm |
| | Squares/Rectangles 1mm x 1mm to 580mm x 580mm |
| Thickness Range: | 1.20mm, 1.60mm, 2.30mm & 3.00mm |
| Coating Options: | AR Coated one or both sides |
| Options: | Toughened, laminated, drilled, bevelled angles, shapes & screen printed |
Purchase OEM production quantities?
Ask UQG for a quote we are a major single source supply chain global supplier.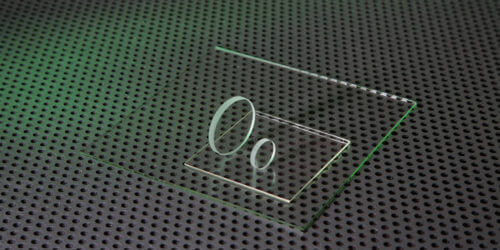 Material:
MILGLASS - AR Coated Sheet Float Glass
Diameter Tolerance:
+0.00/-0.20 As cut & chamfered 25mm dia & under
+0.10/-0.30 As cut & chamfered over 25mm dia
Squares Tolerance:
± 0.20mm
Thickness Tolerance:
± 0.15mm
Edge Finish:
25mm dia & below ground & chamfered
Over 25mm dia as cut & chamfered
Surface Quality:
40/20 Scratch/Dig
Surface Flatness:
≤ 1 Fringes (@633nm) per 25mm square
Transmission:
R≤ 0.30 avg 425-700 T>99% avg
Coating:
Multi-Layer dielectric coating one side & both Sides
Please contact us for discount pricing for stock parts over 10+ and volume/OEM quantities