AR Coated Glass Standard - Windows, Plates & Sheets
AR coated sheet glass windows and plates are economical AR coated material, produced by a precision gel dipping process on one or both sides on white crown low iron glass. The oxidic layers produce interference which aids the effect of removing reflections. This is much purer, robust and chemically more stable than other coating process like vapour deposition or sputtering. Uncoated surfaces reflect approximately 4% of light per side. These coated glasses can reduce reflection by 90% producing a transmission average of 99% in the visible transmission. Removing the sunlight or artificial light they are used in applications for technical displays, indicator boards, machine vision windows, cameras and general AR coated windows. A wide range of thicknesses with larger sizes are available in stock.
UQG optics AR coated sheet glass windows and plates are made as diameters, squares and shapes to a standard stock range or custom made to your design.
Please contact our sales team.

View RoHS Statement
| | |
| --- | --- |
| Dimensions: | Diameters 5mm to 600mm |
| | Squares/Rectangles 1mm x 1mm to 885mm x 610mm |
| Thickness Range: | 2mm, 3mm, 4mm & 6mm |
| Coating Options: | AR coated one side or both sides |
| Options: | Toughened, laminated, drilled holes, bevelled angles, shapes & screen printed |
Purchase OEM production quantities?
Ask UQG for a quote we are a major single source supply chain global supplier.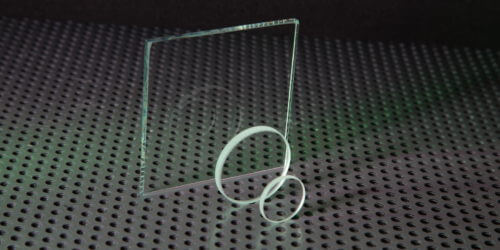 Material:
CLEARTEC - AR Coated Sheet White Float (Low Iron)
Diameter Tolerance:
+0.00/-0.20mm Ground edges & chamfered 25mm dia & below
+0.10/-0.30 As cut & chamfered over 25mm dia
Squares Tolerance:
± 0.20mm
Edge Finish:
Below 25mm ground & chamfered
Over 25mm dia as cut & chamfered
Thickness Tolerance:
+ 00/-0.20mm
Surface Quality:
60/40 Scratch/Dig
Surface Flatness:
1-2 Fringes per 25mm dia (@633nm)
Transmission Range:
>98% avg 450-700nm
Coatings:
Precision dip coated both sides
Please contact us for discount pricing for stock parts over 10+ and volume/OEM quantities