Step Windows
UQG Optics step windows are either windows or plates ground with a step into the edge or length of the glass. This step can allow for rings or sealant, useful for sealing into housing or mechanical assembly. The step windows are made from a wide range of materials including BK7, Fused Quartz, Borosilicate and Sapphire. In fact all materials can be engineered in this way subject to thickness. Additional bevels can be ground to the step for assembly and handling. Angles can also be produced to create angled cones or an angled ground step.
UQG stock step windows to various designs and can custom make them to additional shapes with AR coatings.
Please contact our sales team.

View RoHS Statement
| | |
| --- | --- |
| Dimensions: | Diameters 10mm to 200mm |
| | Squares/rectangles 20mm x 20mm to 200mm x 200mm |
| Thickness Range: | 1.50mm to 20mm thick |
| Surface Quality: | 80/50 to 20/10 scratch/dig |
| Surface Flatness: | Up to lambda 4 (@633nm) |
| Material Options: | Optical glasses, Fused Silica, Fused Quartz, Borosilicate, Germanium, Silicon & Sapphire |
| Coating Options: | AR optical coatings |
| Options: | Angled bevels, chamfers & faces drilled |
Purchase OEM production quantities?
Ask UQG for a quote we are a major single source supply chain global supplier.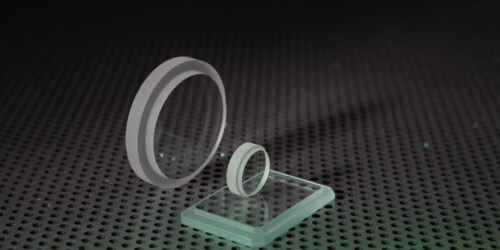 Material:
UV Fused Silica, Borosilicate, Float glass (plate finish) & Sapphire
Dimension Tolerance:
+0.00/-0.10mm
Thickness Tolerance:
± 0.10mm
Edge Finish:
Fine Ground & chamfered
Surface Flatness:
3-5 Fringes (@633nm)
Surface Quality:
60/40 Scratch/Dig
Parallelism:
≤ 5 Arc mins
Please contact us for discount pricing for stock parts over 10+ and volume/OEM quantities