Lead Glass Windows & Plates
Lead glass x-ray protection windows act as a protection barrier against gamma and x-rays. They are also an excellent radiation shielding glass. Schott RD50 has a high density, producing high x-ray absorption in relation to the thickness of the glass.
Widely used in vacuum systems for viewports and protection windows for sensitive instruments used in industry and science.
UQG Optics stock a standard range of windows. Our custom made lead glass windows are manufactured in circular windows or plates in two grades of surface finish, either optically polished for increased flatness or thickness tolerance and from standard polished sheet materials.
Please contact our sales team.

View RoHS Statement
| | |
| --- | --- |
| Dimensions: | Diameters 5mm to 200mm |
| | Squares/Rectangles 10mm to 200mm - plate finish up to 1 metre |
| Thickness Range: | 1mm to 16mm (100kv to 300kv) (subject to dimension) |
| Materials Options: | Corning Med x-RWB46 & Schott® RD30 polished sheets up 1 metre x 1 metre |
| Coating Option: | AR Coatings |
| Options: | Shapes, bevels & holes |
Purchase OEM production quantities?
Ask UQG for a quote we are a major single source supply chain global supplier.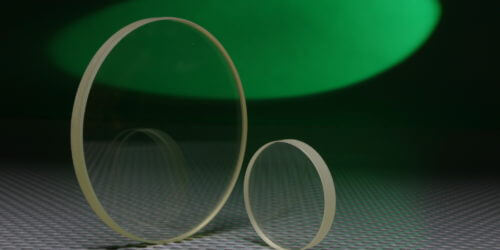 Material:
Lead Glass Schott® RD50 Optically Polished
Dimension Tolerance:
+0.00/ -0.20mm
Thickness Tolerance:
± 0.10mm
Surface Quality:
60/40 Scratch/Dig
Surface Flatness:
≤ 5 Fringes (@633nm)
Parallelism:
≤ 3 Arc mins
Please contact us for discount pricing for stock parts over 10+ and volume/OEM quantities
Part Number
LGW-2506
PDF Data sheet
Diameter (mm) Ø 25
Thickness (mm) 6
UNIT PRICE (1-10)
£31.00 Inc. VAT
Part Number
LGW-5006
PDF Data sheet
Diameter (mm) Ø 50
Thickness (mm) 6
Focal Length (mm) 0
UNIT PRICE (1-10)
£39.60 Inc. VAT
Part Number
LGW-1006
PDF Data sheet
Diameter (mm) Ø 100
Thickness (mm) 6
Focal Length (mm) 0
UNIT PRICE (1-10)
£89.00 Inc. VAT