IPL Glass Block Crystals
UQG Optics IPL Glass Blocks (Intense Pulsed Light) are made in the material of Schott N-BK7 and light is transmitted at a certain wavelength through the glass making it safe for the skin. The IPL Glass block crystals have polished optical faces to protect the skin when used in laser beauty equipment, for treatments such as hair removal, vascular therapy and skin rejuvenation.
UQG Optics stock standard sizes and custom options to coat with bandpass filter coatings and AR coatings. The crystal blocks can be custom made in Fused Silica, Quartz and Sapphire.
Please contact our sales team.

View RoHS Statement
| | |
| --- | --- |
| Dimensions: | Up to 150mm x 150mm |
| Thickness Range: | Up to 50mm |
| Surfaces: | Scratch dig 80/50 or 20/10 |
| Material Options: | Schott® N-BK7, Fused Silica, Quartz & Sapphire |
| Coating Options: | Bandpass filter coatings & AR coatings |
| Options: | Angles ground, radiuses & bevels |
Purchase OEM production quantities?
Ask UQG for a quote we are a major single source supply chain global supplier.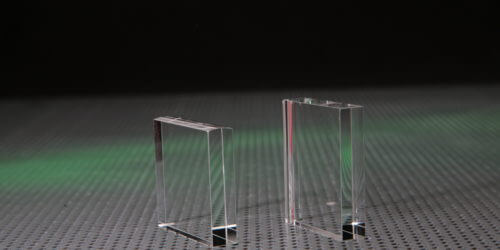 Dimension Tolerance:
±0.10mm
Thickness Tolerance:
±0.10mm
Edge Finish:
All polished
Surface Quality:
40/20 Scratch/Dig
Please contact us for discount pricing for stock parts over 10+ and volume/OEM quantities
Part No
Data
sheet
Description
Dimensions (mm)
Thickness (mm)
Unit price
(1-10)


Qty


Qty
(10+)

Volume pricing available for 10+, please add to quote.

IGB-510
PDF
Glass Block Crystal - Radius 20mm
47.80 x 42
10
£19.00
Part Number
IGB-510
PDF Data sheet
Thickness (mm) 10
Dimensions (mm) 47.80 x 42
UNIT PRICE (1-10)
£19.00 Inc. VAT