Dichroic Colour Filters
Our Dichroic Filters are glass filters with thin films and dielectric thin films, vacuum deposited on glass substrates. Transmitting and reflecting certain regions of the visible spectrum, the filters are practically absorption free, non-fading and highly transmitting.
Dichroic Filters have a longer longevity than standard filters and as the light is reflected and not absorbed, there is less heating so are widely used in laser and imaging applications.
The colour filters are available in red, green and blue, substantive colours yellow, magenta and cyan. For less demanding specifications for general lighting we also supply a range of standard colours.
UQG optics can provide stock sizes and custom made sizes with various coating wavelengths and material options.
Please contact our sales team.

View RoHS Statement
| | |
| --- | --- |
| Dimensions: | Diameters 5mm to 400mm |
| | Squares/Rectangles 1mm x 1mm to 300mm x 300mm |
| Thickness Range: | 1.10mm to 3.00mm |
| Surface Quality: | 80/50 to 20/10 scratch/dig |
| Surface Flatness: | Up to lambda 4 (@633nm) |
| Material Options: | Fused Silica, Fused Quartz & Borosilicate® Borofloat |
| Coating Options: | AOI 45° Custom Dichroic transmissions, custom cut off/cut on filters & additional standard colour range |
Purchase OEM production quantities?
Ask UQG for a quote we are a major single source supply chain global supplier.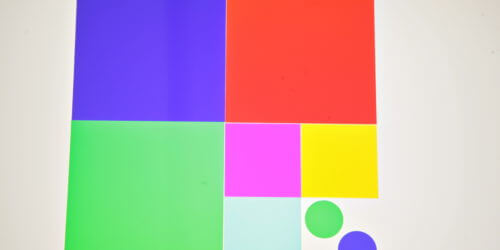 Material:
Borosilicate Coated Glass
Dimension Tolerance:
Diameters +0.00/-0.20mm
Thickness Tolerance:
±0.10mm
Edge Finish:
Diameters ground squares as cut/chamfered
Spectral Data:
Tavg >90% 400-460nm
Spectral Data:
Tavg <1% 400-480nm
T50% 515 ±7.5nm/750 ±7.5nm
Spectral Data:
Tabs <1% 400-570nm
Spectral Data:
Tabs <1% 400-470nm
Spectral Data:
Tabs > 75% 400-460nm
T10% 490±10nm/610 +15/-0.10nm
Spectral Data:
Tabs >85% 420-565nm
Please contact us for discount pricing for stock parts over 10+ and volume/OEM quantities