AR Coated Thin Glass Windows, Plates & Sheets
AR coated glass plates and substrates are vacuum evaporated multilayer AR coatings on a range of thin glass sheets. This reduces glass glare and reflection increasing transmission and brightness. Widely used for LCD modules, display panels and medical devices the coated glass has an excellent surface finish and can be supplied in custom thicknesses to as low as 0.10mm thick. The range stocked covers the visible wavelength applied to both sides but coating of a single side is available with custom AR coatings for the near IR.
UQG optics AR coated thin glasses are made as diameters and squares to a standard stock range or custom made to your design.
Please contact our sales team.

View RoHS Statement
| | |
| --- | --- |
| Dimensions: | Diameters 5mm to 400mm |
| | Squares/Rectangles 1mm x 1mm to 300mm x 300mm |
| Thickness Range: | 0.3mm (maximum dimensions 80mm x 88mm) - D 263® T eco |
| | 0.55mm (maximum dimensions 270mm x 360mm/350mm dia) - D 263® T eco |
| | 1.1mm & 2mm (maximum dimensions 300mm x 300mm/400mm dia) |
| Material Options: | Schott D 263® T eco |
| Coating Options: | AR one side or both sides |
Purchase OEM production quantities?
Ask UQG for a quote we are a major single source supply chain global supplier.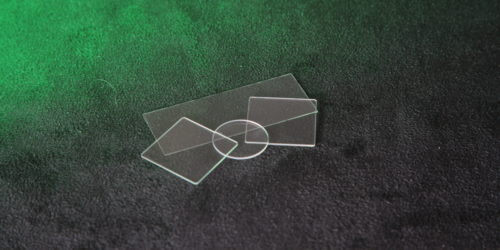 Material:
Schott® Borofloat Borosilcate Sheet & D 263® T eco- AR/AR Coated
Dimension Tolerance:
± 0.10mm
Thickness Tolerance:
0.30mm ± 0.02mm, 0.55mm ±0.05mm, 1.10mm ±0.10mm & 2mm ±0.10mm
Edge Finish:
Fine ground or as cut & chamfered
Surface Quality:
60/40 Scratch/Dig
Surface Flatness:
4-6 Fringes (@633nm) per 25mm
AR Visible Coating:
AR Multi layer coating both sides 400-700nm
AR VIS-IR Coating:
AR Multi layer both sides 400-1000nm
Please contact us for discount pricing for stock parts over 10+ and volume/OEM quantities