Barium Fluoride (BaF2) Windows
Barium Fluoride (BaF2) is the fastest known scintillator material and BaF2 windows and plates are used in VUV and infrared spectroscopy. BaF2 has excellent Transmission from 200nm – 12μm and resistance to high-energy radiation. The material can be used up to 800°C but can be subject to reduced transmission in the UV with surface damage in high moisture environments. Accessories for FTIR spectrometers include standard stock windows and demountable cell windows. BaF2 spectroscopic and view port windows are often used for 8-11 micron wave range for the high transmission. Applications for use also include thermography, Laser spectroscopy, astronomy and medical thermology equipment. These optical windows are very sensitive to thermal and mechanical shock.
Our Barium Fluoride windows and plates are made as diameters and squares to a standard stock range or custom made to your design.
Please contact our sales team.

View RoHS Statement
| | |
| --- | --- |
| Dimensions: | Polycrystalline diameters 5mm to 130mm & Squares/rectangles 5mm x 5mm to 90mm x 90mm |
| | Monocrystalline diameters 5mm to 100mm & Squares/rectangles 5mm x 5mm to 60mm x 60mm |
| Thickness Range: | 0.50mm to 10mm |
| Surface Quality: | 80/50 to 20/10 Scratch/Dig |
| Surface Flatness: | Up to lambda 4 (@633nm) |
| Material Options: | Monocrystalline & Polycrystalline |
| Coating Options: | AR coatings from 200nm to 11 microns |
| Options: | Drilled holes, shaped, wedges, squares & rectangles |
Purchase OEM production quantities?
Ask UQG for a quote we are a major single source supply chain global supplier.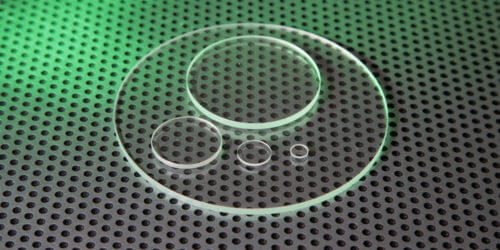 Material:
Barium Fluoride (BaF2) Polycrystalline UV-IR Grade
Dimension Tolerance:
+.00/-0.20mm
Thickness Tolerance:
± 0.10mm
Edge Finish:
Ground & chamfered
Surface Quality:
60/40 Scratch/Dig
Quality Flatness:
3-5 Fringes (@633nm)
Parallelism:
≤ 3 Arc minutes
Transmission Range:
UV 150nm to IR 11 microns
Please contact us for discount pricing for stock parts over 10+ and volume/OEM quantities