Silicon AR Coated with a wavelength range of 3-5 microns and a thickness of 1mm offers enhanced performance for infrared (IR) applications in this specific spectral region.
The Anti-Reflection (AR) coating applied to one or both sides of the silicon substrate reduces unwanted reflections, thereby maximizing the transmission of light within the desired IR range. This makes it particularly well-suited for applications such as IR spectroscopy, thermal imaging, and sensing in the 3-5 microns wavelength region. The 1mm thickness ensures durability and stability in various optical setups. Silicon AR Coated 3-5 microns, with its precise transmission characteristics, is a valuable optical material used in a wide range of scientific, industrial, and research applications where accurate IR performance is essential for achieving reliable and high-quality results.
View all of our Silicon (Si) Windows products.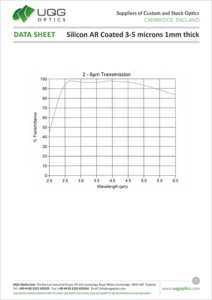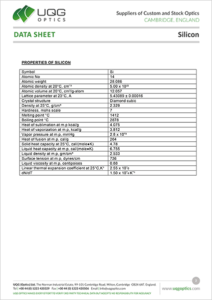 UQG OPTICS MAKES EVERY EFFORT TO VERIFY 3RD PARTY TECHNICAL DATA BUT ACCEPTS NO RESPONSIBILITY FOR ACCURACY.
PDF Download