Magnesium Fluoride MgF2 Windows
UQG Optics Magnesium Fluoride (MgF2) windows are polycrystalline VUV grade and have a superior UV transmission range from 120nm to 7 microns. It is one of the hardest of the fluoride materials making it perfect to use in applications with severe conditions, water, laser and chemical damage.
UQG Optics stock MgF2 Windows in the below diameters and can custom make squares/rectangles with a preferred surface quality and flatness. We also can supply these windows in a Magnesium Fluoride Monocrystalline material with AR coatings and different shapes.
Please contact our sales team or view all our IR Windows.

View RoHS Statement
| | |
| --- | --- |
| Dimensions: | Diameters 5mm to 100mm |
| | Squares/Rectangles 5mm x 5mm to 60mm x 60mm |
| Thickness: | 0.50mm to 10mm |
| Surface Quality: | 80/50 to 20/10 scratch/dig |
| Surface Flatness: | Up to lambda 4 (@633nm) |
| Material Options: | Monocrystalline & Polycrystalline |
| Coating Options: | AR coatings |
| Options: | Drilled holes, shaped, wedges, squares & rectangles |
Purchase OEM production quantities?
Ask UQG for a quote we are a major single source supply chain global supplier.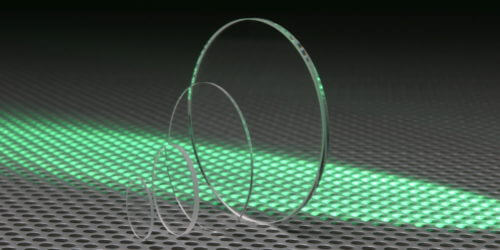 Material:
Magnesium Fluoride (MgF2) Polycrystalline VUV grade
Dimension Tolerance:
+0.00/-0.10mm
Thickness Tolerance:
± 0.10mm
Edge Finish:
Ground & chamfered
Surface Quality:
60/40 Scratch/Dig
Surface Flatness:
≤ 5 Fringes (@633nm)
Parallelism:
≤ 3 Arc minutes
Transmission Range:
UV 120nm to 7microns
Please contact us for discount pricing for stock parts over 10+ and volume/OEM quantities
Part Number
WMF-131
PDF Data sheet
Diameter (mm) Ø 13
Thickness (mm) 1
UNIT PRICE (1-10)
£20.00 Inc. VAT
Part Number
WMF-251
PDF Data sheet
Diameter (mm) Ø 25
Thickness (mm) 1
UNIT PRICE (1-10)
£35.00 Inc. VAT
Part Number
WMF-302
PDF Data sheet
Diameter (mm) Ø 30
Thickness (mm) 2
UNIT PRICE (1-10)
£60.00 Inc. VAT