Magnesium Fluoride (MgF2) Windows are optical components renowned for their exceptional transmission properties in the ultraviolet (UV) and infrared (IR) regions.
These windows are made from high-quality magnesium fluoride crystal, which exhibits excellent transparency from the UV to the mid-infrared spectrum. MgF2 windows are widely used in applications that require precise transmission of UV and IR light, such as spectroscopy, astronomy, laser systems, and thermal imaging. They are valued for their low absorption, high resistance to thermal and mechanical shocks, and resistance to chemically aggressive environments. With their superior optical performance and robust nature, Magnesium Fluoride (MgF2) Windows are essential components in a wide range of scientific, industrial, and research applications.
View all our Magnesium Fluoride (MgF2) Windows products.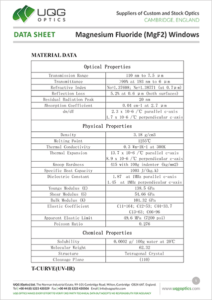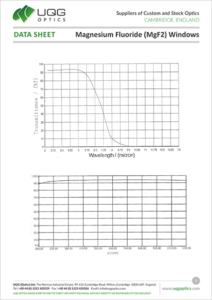 UQG OPTICS MAKES EVERY EFFORT TO VERIFY 3RD PARTY TECHNICAL DATA BUT ACCEPTS NO RESPONSIBILITY FOR ACCURACY.
PDF Download