Concave Mirrors
A concave mirror is used for focusing light. They have a reflecting surface so when the light strikes the surface it causes it to reflect to one focal point. Our Concave mirrors have an aluminium and SiO overcoat which improve the reflectance of visible wavelengths. Uses of concave mirrors include use in many imaging systems and other applications which require light collection, such as reflecting telescopes and laser systems.
UQG have a range of focal lengths in stock and can also custom make with various coatings for UV wavelength and custom dielectric coatings to suit a particular wavelength.
Please contact our sales team.

View RoHS Statement
| | |
| --- | --- |
| Dimensions: | Diameters 10mm to 250mm |
| | Squares/rectangles 10mm to 100mm |
| Surface Quality: | 80/50 to 20/10 scratch dig |
| Surface Flatness: | Up to lambda 10 (@633nm) |
| Coating Options: | UV enhanced, dielectic, silver & gold (wavelengths to suit) |
Purchase OEM production quantities?
Ask UQG for a quote we are a major single source supply chain global supplier.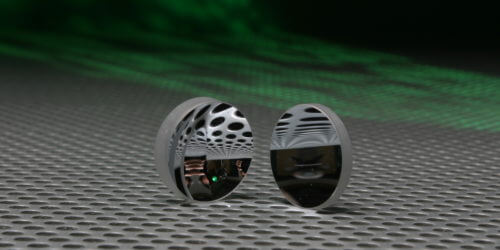 Dimension Tolerance:
+0.00/0.20mm
Surface Quality:
60/40 Scratch/Dig
Surface Flatness:
≤ 3 Fringes (@633nm)
Coating:
AL + SIO overcoated
Reflectance:
R≥90% @ 550nm
Please contact us for discount pricing for stock parts over 10+ and volume/OEM quantities