Hi Refractive Index Microscope Slides
UQG Optics Hi refractive index microscope slides are made for certain laboratory research applications when a high refractive index glass is required. These slides are cut and polished from optical glass block materials from a range of selective optical glasses higher than the standard index of 1.51nd which is more commonly used. The refractive index can range from 1.60nd to 1.90nd with a wide range of index's from manufacturers including Schott and O'hara. These materials are not just limited for microscope slides, as they are also  made into cover slips to precise thicknesses to allow for the refraction of light transmission.
A range of additional refractive indexes are available through our custom range made to your precise size and specification.
Please contact our sales team.

View RoHS Statement
| | |
| --- | --- |
| Dimensions: | Squares/Rectangles 5mm x 5mm to 100mm x 100mm |
| Thickness Range: | 0.50mm to 2mm |
| Surface Quality: | 80/50 to 20/10 scratch/dig or diffused/ground |
| Surface Flatness: | Up to 1 fringe (@633nm) |
| Material Options: | Schott & Ohara optical index's from 1.50 to 1.90 nd |
| Coating Options: | AR coatings |
| Options: | Squares, edges polished & labelled |
Purchase OEM production quantities?
Ask UQG for a quote we are a major single source supply chain global supplier.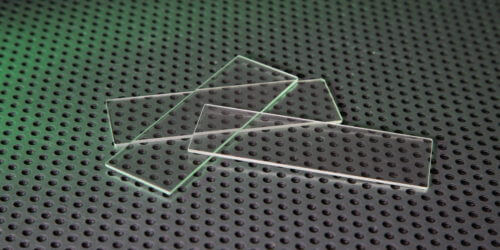 Material:
Ohara Optical Glass
Dimension Tolerance:
± 0.20mm
Thickness Tolerance:
± 0.10mm
Edge Finish:
Ground & chamfered
Surface Quality:
60/40 Scratch/Dig
Surface Flatness:
≤ 5 Fringes (@633nm)
Parallelism:
≤ 3 Arc mins
Please contact us for discount pricing for stock parts over 10+ and volume/OEM quantities