Calibration Filters - Didymium & Holmium
UQG Optics Calibration filters are made from Schott glass and are used in spectrophotometers as secondary calibration standards for the confirmation of the transmittance and absorption. They can be absorptive glass filters for the visible or metallic coated for the ultraviolet (UV) and infrared (IR) spectrum. Produced as unmounted filters for OEM customers for calibration references or mounted in cuvette filters holders for spectrophotometers for laboratories as single filters or a range of values supplied boxed. Calibration filters can also be supplied calibrated within ± 0.5nm, level of uncertainly ± 0.3nm.
UQG Optics stock diameters and squares and can custom make including material options and dimensions.
Please contact our sales team.

View RoHS Statement
| | |
| --- | --- |
| Dimensions: | Diameters 5mm to 160mm |
| | Squares/Rectangles 3mm x 3mm to 165mm x 165mm |
| Thickness Range: | 0.50mm to 4mm (subject to dimension) |
| Options: | Mounted in spectrophotometer mounts, calibration certificate to within ± 0.5nm traceable to NPL standard |
| Materials: | Didymium - Hoya V10, Schott BG20 & Schott BG36 |
| | Holmium - Hoya HY1 & Kopp 3131 |
Purchase OEM production quantities?
Ask UQG for a quote we are a major single source supply chain global supplier.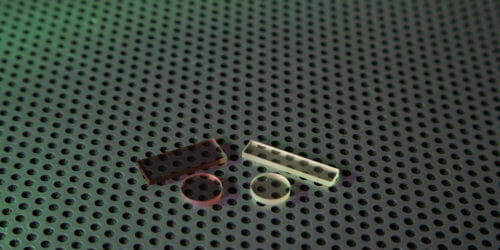 Material:
SCHOTT® or HOYA® Filter Glass
Dimension Tolerance:
+0.00 / -0.20mm
Thickness Tolerance:
± 0.20mm
Surface Quality:
60/40 Scratch/Dig (@633nm)
Surface Flatness:
≤ 3 Fringes (@633nm) per 10mm2
Parallelism:
≤ 3 Arc mins
Please contact us for discount pricing for stock parts over 10+ and volume/OEM quantities