Hoya HY1 Wavelength Calibration Filter is an optical material designed for precise calibration of optical instruments and measurement systems.
It is made from specialty glass with specific spectral characteristics. The HY1 filter is specifically engineered to transmit a narrow band of light at a known wavelength, providing a reliable reference for wavelength calibration. This makes it invaluable in applications such as spectroscopy, microscopy, and laser technology, where accurate wavelength calibration is essential. The Hoya HY1 Wavelength Calibration Filter offers high transmission at the calibrated wavelength, ensuring precise and reliable measurements in various optical setups. With its exceptional optical performance and reliability, this filter is a trusted tool for wavelength calibration in scientific and industrial applications.
View all our Hoya calibration filters products.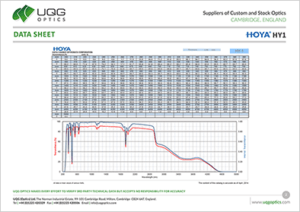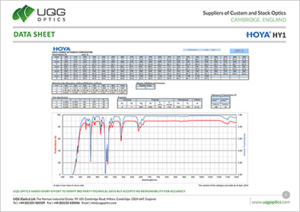 UQG OPTICS MAKES EVERY EFFORT TO VERIFY 3RD PARTY TECHNICAL DATA BUT ACCEPTS NO RESPONSIBILITY FOR ACCURACY.
PDF Download