Silicon is a versatile and widely used optical material known for its excellent transmission properties in the infrared (IR) spectrum.
Silicon Uncoated, as the name suggests, does not have any additional coatings applied to its surface. It is particularly valuable for applications where precise IR transmission is required without interference from coatings. Silicon's spectral range covers approximately 1.2μm to 7μm, making it highly suitable for use in IR imaging systems, thermal imaging devices, and various spectroscopy applications. Its exceptional thermal and mechanical properties make it a preferred choice for high-temperature environments and demanding optical setups. Silicon Uncoated's robust nature and exceptional transmission characteristics enable engineers and researchers to develop advanced optical systems with accuracy and reliability. Its widespread use in a diverse range of industries, including aerospace, defence, medical, and scientific research, underscores its importance as a fundamental optical material for cutting-edge technologies.
View all of our Silicon (Si) Windows products.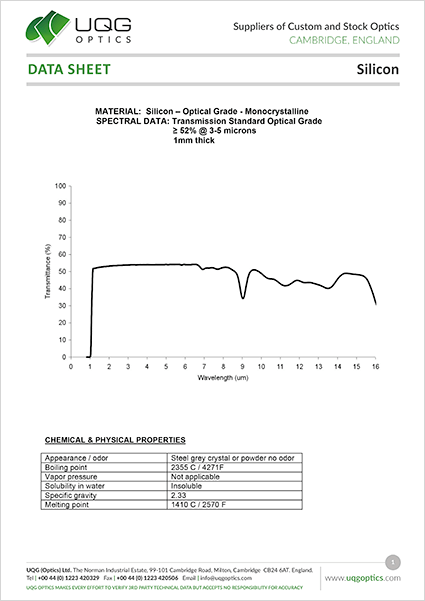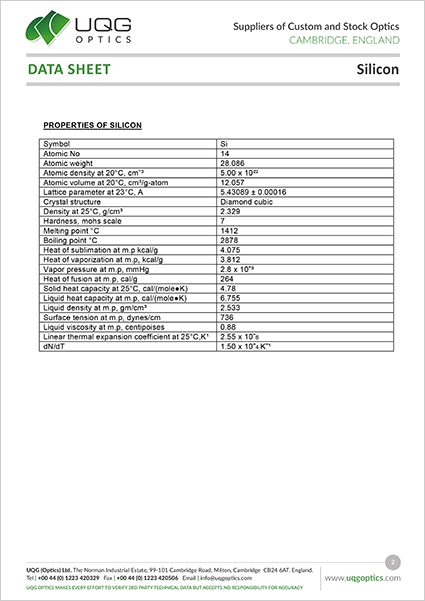 UQG OPTICS MAKES EVERY EFFORT TO VERIFY 3RD PARTY TECHNICAL DATA BUT ACCEPTS NO RESPONSIBILITY FOR ACCURACY.
PDF Download